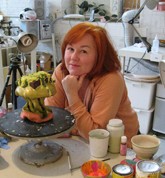 The Smithsonian American Art Museum has named Kathy Butterly the winner of its Contemporary Artist Award. The award recognizes an artist under fifty who has shown "exceptional creativity" and has created a "significant body of artwork that is considered emblematic of this period in contemporary art." The award comes with a gift of $25,000.
Ms. Butterly creates sensually colored, small, glazed ceramic sculptures that resemble the human body and begin with banal items like kitchen utensils. Born in 1963, in Amityville, New York, she received her MFA in 1990 from the University of California, Davis. More recently, her recognition has been steadily growing. She has had several solo shows of late including one in New York at the Tibor de Nagy Gallery and in 2011, she was the recipient of the Pollock-Krasner Foundation Grant.
She is the tenth artist to receive the Contemporary Artist Award, which was established in 2001 and has since gone to artists that include Kara Walker, Rirkrit Tiravanija, Andrea Zittel and Pierre Huyghe.
This year's 15 nominees, which were announced in August, included Sara VanDerBeek, Ryan Trecartin, Rachel Harrison and Will Ryman. The five jurors who chose Ms. Butterly are Monica Amor, professor of art history, theory and criticism at the Maryland Institute of Art, Ian Berry, the associate director of curatorial affairs at The Frances Young Tang Teaching Museum and Art Gallery at Skidmore College, Irene Hoffman, director at Site Santa Fe, artist James Nares and Alma Ruiz, a senior curator at The Museum of Contemporary Art in Los Angeles.
"This year's winner is a bold choice; rewarding a ceramicist signals a welcome openness in today's contemporary art world," said Elizabeth Broun, the director of the Smithsonian American Art Museum, in a statement. "Butterly's highly personal approach to materials and form creates a wonderfully provocative effect, like a secret sharing of her most private ideas and feelings."