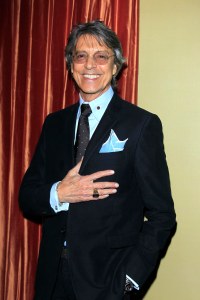 "Taps, Tunes and Tall Tales" is the perfect title for Tommy Tune's cabaret debut at Feinstein's at Loew's Regency, and he delivers plenty of all three. You know you're in for an evening of savvy show business sass the minute the lights dim and he sails in singing "I've Got Them Feelin' Too Good Today Blues" in a red suit the color of a tomato surprise.
Treetop tall and chlorophyll fresh, the dancer/actor/director/choreographer who Gene Kelly once called "too lanky for a legend" reduces his life story to one hour of handpicked tales and take-home tunes, punctuated by nifty tap routines executed to tumultuous applause on a stage the size of a forever stamp. He talks about meeting Fred Astaire on the opening night of  the long-running My One and Only, then backs up to his chicken-fried beginnings in Texas, saying goodbye to women with big hair and men with big boots—not to mention, chiggers, rodeos and moon pies. You don't have to be from the Lone Star State to get the message. Then, like a movie montage, the action transports him to New York City on St. Patrick's Day in 1962. He went straight through the painted green line down the center of Fifth Avenue and auditioned with the song "Heart" from Damn Yankees. Wouldn't you know it? He got his first job, on his first audition, on his first day in town. And those feet been doin' their stuff ever since. They took him to Moscow to meet Gorbachev in the middle of the Kremlin (he loved tap dancing!) and they led him to Hollywood movies, Broadway shows and Las Vegas showrooms, and most recently a three-year tour of his own musical memoir Steps in Time, pieces of which he's sharing in the current sold-out show at Feinstein's (through Nov. 26). Ably accompanied by Michael Biagi, his pianist and musical director for nearly four decades, Mr. Tune's show is a celebration of 50 years in show business, the artifacts of which, preserved in a downtown storage space, were turned to toast by Hurricane Sandy. Weep not. He stores his memories safely in his heart now, and shares them warmly, generously and bountifully in a show that leaves his audience begging for more.
In "Sand in My Shoes," he demonstrates the exquisitely nuanced tap steps taught to him by his mentor and favorite dance partner, the great Charles "Honi" Coles. The best story he tells is a deeply touching personal reminiscence of this man, who stopped My One and Only cold for over 1000 performances until the day Mr. Coles suffered a stroke onstage. He forgot his song, his lyrics and his lines, but when Tommy cued the conductor to start the dance music, Mr. Coles revived, danced to perfection, and died. You don't get stories like that every night in the tired old cabaret whirl, or the best dropped names from Gwen Verdon to Twiggy, or the quality songs by Berlin, Rodgers, Coward, Porter, Bachrach, Mercer, Kurt Weill and the Gershwins. One of them, titled "I Love It", sums up the passions of Tommy Tune better than any other:
"I've played the Palace

And I've played the sticks …

I can do shuffles

And I can do kicks …

I've taken my bows

And I've taken my licks …

Lord help me, I love it.

I've danced for a fortune

I've danced for a buck …

In front of the Queen

On the back of a truck …

Been up at the White House

Been down on my luck …

Lord help me, I love it."
You could hear the applause out on Park Avenue. Lord help us, New York loves Tommy Tune.
rreed@observer.com