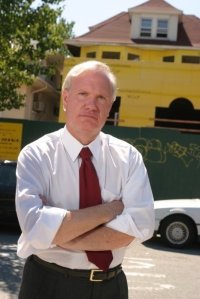 State Senator Tony Avella, an outspoken Queens pol who has been mulling a run for borough president for some time, is ready to pull the trigger and announce his campaign. And he's not holding back criticism against the term-limited incumbent, Helen Marshall, and her handling of post-Hurricane Sandy efforts.
"I thought we should have had a much more active borough president and much more of a coordinating effort from the office of the borough president," Mr. Avella told the Times Ledger. "That convinced me Queens needs a voice."
The move comes as some surprise, as Mr. Avella hadn't previously committed himself to the already-crowded race. Other top-tier candidates include Councilman Leroy Comrie, State Senator José Peralta and former Councilwoman Melinda Katz. Councilman Peter Vallone, with a million dollars in his campaign account, is also publicly mulling a bid. Mr. Vallone, who, like Mr. Avella, is an Italian-American known to speak out against the Democratic establishment, could see his hypothetical electoral coalition adversely affected by today's news.
Mr. Avella previously ran a quixotic campaign for mayor in 2009, decisively losing the Democratic primary vote to then-Comptroller Bill Thompson. Even without the local party's support, the state senator told the Times Ledger he would fully be in this race as well.
"I think we have a real shot, and so far the reaction has been positive," he said of his chances.