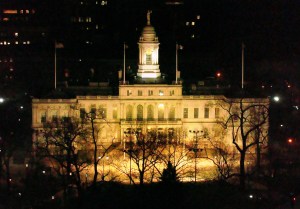 On a brisk mid-October day, Tom Allon announced he was dropping out of the highly competitive Democratic mayoral primary and would instead be a contender in the far sparser Republican field. "Theodore Roosevelt cleaned up New York by telling truth to power and truth to the public," he declared, standing before the equestrian statue of Theodore Roosevelt on the Upper West Side. "I plan to run a campaign that will talk about the hard truths facing our city, and ideas I have to fix our growing problems."
The event's august backdrop may have oversold its symbolic importance. It's impossible to find a neutral party who thinks Mr. Allon, a local newspaper publisher whose weeklies include Our Town and The West Side Spirit, is anything but a long-shot to replace term-limited Mayor Michael Bloomberg in 2013. But as no fewer than five heavyweight Democrats are already in contention for the office, each of whom has raised over a million dollars, Mr. Allon's move highlights the fact that Republicans, so far at least, are still on the hunt for a formidable standard-bearer.
Sensing the vacuum, former Bronx Borough President Adolfo Carrión Jr. announced Monday night that he has also left the Democratic Party in hopes of securing the Republican line for mayor. However, as he only changed his registration to independent, the aspiring candidate will need the support of three of the five GOP county chairmen to proceed. Mr. Carrión, a relatively prominent Latino pol with over a million dollars in his campaign account, could be very tempting to the party's leadership. Whether or not he will ultimately be their candidate is unclear, as are most of the details of Mr. Carrión's nascent campaign.
Besides Mr. Allon and Mr. Carrión, only Doe Fund founder George McDonald has stepped forward for the GOP. Mr. McDonald, whose nonprofit is dedicated to helping the homeless and the formerly incarcerated get back on their feet, told The Observer that he's building up his campaign but has yet to formally announce his intentions. "We're raising money, and we'll make a filing on January 15," he said, vowing to raise $16 million in the next 12 months. "When we make that filing, it'll be clear this is a serious campaign run by serious people."
Signaling a certain amount of discontent with the field, however, hypotheticals have been bandied about in the city's Republican circles for months, despite the fact that the most commonly named fantasy candidates have offered little to indicate they want the job. The dream candidate for most Republicans is undoubtedly Police Commissioner Ray Kelly, who has the citywide stature and law-and-order biography to compete for many of the moderate Democratic voters who kept Mayors Giuliani and Bloomberg in power all these years. "Go for it, Ray!" The New York Post and Daily News editorial boards identically crowed last April, while the leader of the state's Republican Party proclaimed Mr. Kelly a "superb" mayoral candidate. For some time, praise continued to be heaped on him from all corners, but the commotion eventually died down when Mr. Kelly dropped no hints he might consider entering politics.
Even Mr. Giuliani's name has been tossed into the ring. In her Page Six column last month, Post columnist Cindy Adams broadcast "an unconfirmed—also, so far undenied—rumor" that he was angling to return to Gracie Mansion, a claim The Observer also heard in some of the city's business circles at the time. Mr. Giuliani's spokeswoman quickly shot down the trial balloon, but one can't help but wonder whether his name would have been floated at all if a certain amount of anxiety hadn't set in.
Meanwhile, Democratic State Senator Malcolm Smith has been actively courting Republican officials in hopes of securing a spot on the ballot himself. "I'll meet with anybody that's interested in running on the line," Bronx GOP Chair Jay Savino told us before Mr. Smith arrived at one such meeting in August. "I'm more than willing to sit and talk and see what they want to talk about. I don't know what Senator Smith has to say. I didn't reach out to him, he reached out to us." At one point in the night, Mr. Savino, on the way back from a phone call and a cigar outside, said the discussion had been "interesting" so far.
He paused and then repeated the assessment. "Interesting."
However, none of the Republicans we talked to thought the eccentric senator, who once held a press conference in Times Square to denounce Lil Wayne, would be their pick. Notably, Mr. Smith briefly led his chamber during an especially chaotic period, until his fellow Democrats decided another lawmaker was needed to head their caucus. That's not all the baggage he brings to the race: federal prosecutors are currently investigating a charity he funded with taxpayer dollars. While Mr. Smith declined to speak with us in August, The Observer would later bump into him again as he made his pitch to Republican activists in Brooklyn Heights at the end of October. After a very brief address, during which he vaguely described himself as pro-business, Mr. Smith concluded, "I went to school at Jesuit college; I'm a good guy. We'll talk to you later, take care. God bless." He then walked out the door.
"I think this is just the beginning of the mayoral candidates drive," Brooklyn's Republican chairman, Craig Eaton, said after the event. "I think we're going to hear from a lot of other people over the next couple weeks. And we're looking forward to it. We will have a good candidate on the Republican line." Mr. Eaton would later indicate a preference for Mr.  Carrión.