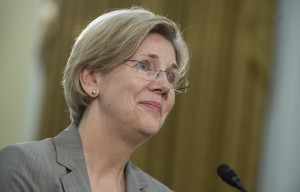 After the last big "Year of the Woman" in American politics – 1992 – galvanized by Anita Thomas publicly accusing Clarence Thomas of sexual harassment, it looked like women were on the road to gender parity in public office.
Twenty years later, we're still only 17 percent of officeholders,  while women are still at least 50 percent of the population. Hello there, Taxation without Representation?
In this regard, the US is way behind other countries. Many nations, from Spain and France to Rwanda and even Iraq, have tried to fix the rigged system with political parity laws, requiring parties to run female candidates by quota, or even reserving legislative seats for women. But the Q-word freaks Americans out, and mandated parity would never fly in the Land of the Free.
Women only seem to be players in American politics because of the marquee females in politics – HRC, Palin, Condi, Pelosi – whose notoriety proves the rule, and provides, as Rutgers Center for Women in Politics Director Debbie Walsh put it, "a veneer of accomplishment."
This year, however, a record 18 women are running for the U.S. Senate (12 D, 6 R) and 163 running for the House (116 D, 47 R). So in a few days, we will know whether 2012 goes down in history asboth the year of the War on Women and another  "Year of the Woman" in American politics.
One reason is because partisan political women's groups made a concerted effort to get women to run this year through the so-called 2012 Project, and financiers like former Clinton Ambassador Swanee Hunt's Political Parity are passing around studies showing the women may be "more efficient" in office than men.
Before we start celebrating 2012's milestones toward the Fem-ocracy, let's remember that among the women running are also people like World Wrestling Federation millionaire Linda McMahon in Connecticut and Tea Party darling Kristi Noem from the great abortion-free state of North Dakota.
In the good news column, Massachusetts' Elizabeth Warren shows a good chance of beating pin-up boy Republican Scott Brown for Senate. A Harvard economic professor and champion of the consumer protections against predatory lending, she's had to put up with Brown's jokes about how glad he is that she didn't pose nude like he did to pay for law school. "Thank God," for that, he joked on a radio program, prompting Nancy Pelosi to call him out.
Ms. Warren is currently up by 5 points.
When Mr. Brown tweaked Ms. Warren on body image, was he being sexist or just playing hardball? Politics is one dirty game – game being the operative word. Like every other spectator sport in America, it's played by men and covered by men.  It is impossible to discuss politics without falling back on sports metaphors.  

Women who play it must expect to take hits in body and soul. In American politics, of course, women are being reduced to their essential body parts anyway.  Form is destiny. An entire campaign season has just been reduced to uterine function, as far as women's interests are concerned.
In a few days, we will know whether 2012 goes down in history as both the year of the War on Women and another  "Year of the Woman" in American politics. Among notable races:
• Democrat Tammy Baldwin running in Wisconsin against Tommy Thompson. The Wisconsin race is a tossup, but Ms. Baldwin would be the first lesbian elected to the Senate.
• In crucial swing state Nevada, Shelley Berkley is running against incumbent Dean Heller, in a nail-biter hanging on Latino voters.
• Hawaii has a historic woman v. woman race for the open Senate seat, which is pretty rare. The Democrat, Mazie Hirono, is favored to win over Gov. Linda Lingle.  Studies have shown that when there is one female in high office, like governor or U.S. Senate, states often end up electing a second woman to similarly high office. (to wit: California's two female Senators and House Speaker Pelosi)
• On the incumbent side, Claire McCaskill is the only woman vulnerable in the U.S. Senate, but she appears likely now to beat "legitimate rape" Todd Akin.
It isn't easy to get women to run in the first place. Large sums of money have been thrown at recruitment and training of women by both parties over the years, but for the same reason women don't get to be CEOs – the kiddies seem to be our responsibility! – women don't have time or money to start campaigning.
And then when they do, look out. Siobhan "Sam" Bennett first ran for mayor in 2001 of Allentown, Pennsylvania, and, she has said, in her first debate in a room full of press and committee men, she was asked: "Just what are your measurements?"
It could be true that something about running Allentown, Pa., requires a Mayor with a certain waist to hip ratio, but Ms. Bennett never found out. Undeterred, she ran for office again. "When I ran for US Congress in 2008, the following quote was plucked from the internet and emblazoned for multiple days with a color photo of me across the front of our tribune paper, 'Sammy Bennett is a phony political wh*** who gives good head and makes cheap political opportunists look like fuc**** Mother Theresa, even her p***y is made of plastic."
Ms. Bennett survived all that to found Name It Change It, which works to identify and call out sexism directed at women of all political stripes. We'll find out on Wednesday whether our country is any closer to making her group defunct.
Maybe then, women like U.S. Senatorial candidates Kirsten Gillibrand and Wendy Long won't have to field inane questions about 50 Shades of Gray at their sole debate. So where is that whip, anyway?