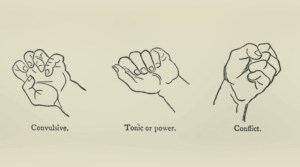 Here's a little treat with which to coast into the holiday: Art21's New York Close Up documentary series just released a short film about New York artist Liz Magic Laser developing her 2012 piece The Digital Face, which involves two actors performing hand gestures from State of the Union addresses given by George H. W. Bush in 1990 and Barack Obama in 2012. The work was performed at Derek Eller Gallery and MoMA PS1.
Among the interesting facts shared in the film is that Ronald Reagan was apparently not much of a gesturer, preferring instead to just grip his speech tightly. One of the actors, Alan Good, shares this fine observation:
I saw two things from Bush. One was, he's a snake in the sense that he pounces quickly, with no muscle coiling beforehand—these very quick hand movements that came out of nowhere. It's kind of like being knifed.
The full piece is embedded below. Those eagerly awaiting some more work from Ms. Laser should mark their calendars for the 2013 Armory Show. She is serving as its commissioned artist, and will present new work—and a variety of other accoutrements—at the fair, which is scheduled to take place on Piers 92 and 94 in New York from March 7 to 10.