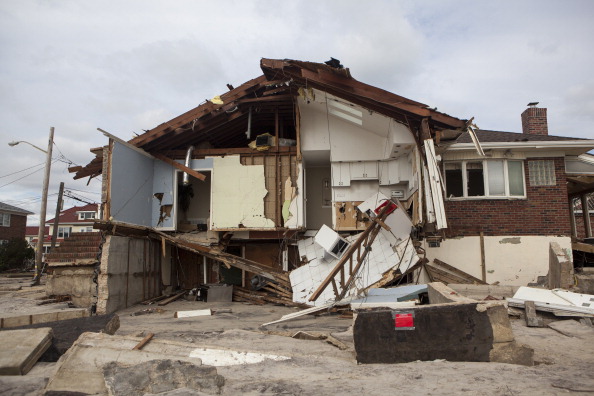 Mayor Bloomberg made it clear before Superstorm Sandy hit New York that he believed there was little that could be done to protect the city, at least in terms of stronger infrastructure. This was before half of Manhattan lost power, before the subways were flooded, before Breezy Point burned to the ground and not a little bit of chaos set in on the city.
Sure, life goes on, and many New Yorkers are making due, some quite well. Still, in the future, something ought to be done, right? The Observer has since talked with numerous planners who believe so, and some of whom have even proposed novel solutions to reinforce the city. And yet the mayor has thrown up his hands again, calling such proposals impractical even as Governor Andrew Cuomo talks of the need to redesign much of our physical infrastructure.
"In terms of our infrastructure, Bob Steele and I have talked about it," Mayor Bloomberg said during a press briefing earlier this afternoon (Bob Steele is his deputy mayor for economic development). "Some of it is just a practical matter that you live on an island, you live very concentrated, there are economics involved, there are risks when you have those kinds of factors that you don't have if you lived in a different place. Some cities have more risks from tornadoes and rivers that flood, they're very different in the suburbs and upstate, they have a very different set of problems than we have today."
He then spoke about how the greatest tragedies are the lives that have been lost, now more than 38 confirmed deaths. "The great tragedy is not for most of us, our problems will be solved, for a lot of us, by the beginning of the week, and these things will be distant memories," Mayor Bloomberg said.  If you go and you look at people in Staten Island, like I did yesterday, or in Breezy Point, the recovery for them is not going to be so easy. The good news is, in most cases, there were no fatalities, the bad news is this is their hopes and dreams."
Nevermind that greater storm protections could have protected these people, at least some of whom the administration has actively encouraged move into harms way through the expansion of waterfront development. Hopefully the storm protections will be there in the future to protect those who survived this time.
Of course we can debate whether this was a freak occurrence, a 100-year flood, or rather an issue that will become more and more common. If it is the latter, serious infrastructure investments are needed and will quickly pay for themselves in terms of money and, more importantly, lives saved. If it remains a rarity, than maybe not.
But these are the kinds of serious infrastructure investments government is supposed to exist to create. It is, or at least once was, a bipartisan issue. Instead, Mayor Bloomberg struck a decidedly self-reliant tone. "I don't know if there's any kind of practical ways to build barriers in the oceans, when you have an enormous harbor, like we do, and Long Island Sound," the mayor said. "Even if you spent a fortune, it's not clear to me you would get much value for it. What we have to do is learn. It would be great if you didn't put your generators in your basement, it would be great if you used them and test them more."
"Some people told me they had generator power, and in a practical sense they didn't, they were old or they didn't have fuel for them," the mayor said in conclusion. "Those are the kinds of practical things we have to do, but I think people will also understand that it's in their economic interests to prepare. "The fact that we live close to the water shouldn't be a surprise to everybody."
But when is it in the city's economic, in its human interests to prepare for these things? Where is the compassion? Where is the foresight? The mayor probably figures that he won't be in office the next time a storm hits. But be careful, Mr. Mayor. We all know you are counting the days left to get everything done. As you well know, there is just over 14 months left, including one more hurricane season. It could be nothing, it could be worse. Are the administration prepared to take that risk?