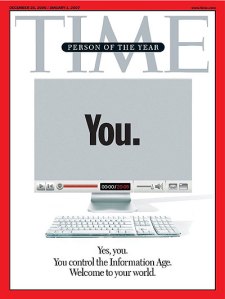 As a former person of the year, maybe You have some insight on who the Time Magazine person of the year should be this year. That's right, You.
Remember back in 2006, when You were chosen as the person of the year for all that content sharing on the World Wide Web? Well, now, it's six years later and You are not the person of 2012. But You still have opinions!
So, why not vote? Like voting for president or for American Idol. Well, sort of. Because actually, You, valued as You were in 2006, and now in a more, shall we say 'advisory' role?
The website explains:
As always, TIME's editors will choose the Person of the Year, but that doesn't mean readers shouldn't have their say. Cast your vote for the person you think most influenced the news this year for better or worse.
So, it's more like the People's Choice Award than the Oscar's.