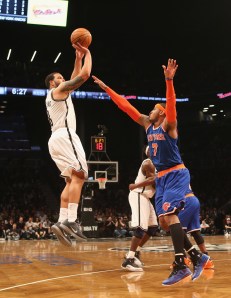 Back in high school, one of my favorite clothing staples was a Knicks jersey adorned with Latrell Sprewell's number eight. I wistfully remembered this as I pulled a black jersey bearing the same digit from the rack in a Midtown Modell's last month. This time, the number on my back would represent a player on a different team, Deron Williams, the star point guard of the nascent Brooklyn Nets.
My purchase of Mr. Williams's jersey was the culmination of a painful decade-plus process in which I chose to abandon the basketball franchise I fervently rooted for throughout my childhood. Though the Knicks spent that period in an agonizing annual ritual of unsuccessful postseason runs, my defection wasn't about the dearth of championships. Even when the Knicks of the '90s lost, they were in contention—they were part of a zeitgeist that included Spike Lee's trash-talking commercials and garish retro blue-and-orange gear. They weren't winners, but the effort always made for a fun ride. No, my break with the team didn't coincide with one of their heartbreaking early postseason exits; it began in 2000, when they unceremoniously traded my basketball idol, Patrick Ewing, the center who had been with the team for as long as I had conscious memories.
Mr. Ewing had stuck with the Knicks throughout his career, despite the organization's repeated failure to assemble a championship-caliber team around him. His loyalty cost him a ring that other players with a fraction of his talent were able to earn in more healthy institutions, and yet as soon as age began to weaken his formidable frame, he was shipped out rather than being permitted to retire gracefully.
Despite my anger over the mistreatment of Mr. Ewing, I stayed true to the Knicks. For me, the straw that broke the camel's back came a year later in 2001, when two of the team's least dependable and most overpaid players, Allan Houston and Charlie Ward, made a series of shockingly anti-Semitic statements in the presence of a reporter at a team Bible-study session. As a Jewish guy from Brooklyn, I was disgusted.
In a fit of high-school rage, I created a "Knicks fan's hit list," and taped it to my bedroom wall. It included all of the people I held responsible for the series of indignities I had suffered while rooting for the team—from Mr. Ward and Mr. Houston to the back-office executives I blamed for, among other things, dumping Mr. Ewing, failing to draft hometown hero Ron Artest in 1999 and going years without signing a true starting point guard. I vowed not to support the team again until all the scoundrels on my list were gone from Madison Square Garden. Then I waited, always planning a return to Knicks fandom when the time was right.
Because of my time-out from cheering on the Knicks, I was a detached observer as Cablevision heir James Dolan took on a major management role and made a series of missteps that caused the team to vanish from postseason contention. Eventually, all the miscreants on my hit list moved on. The final holdout was Mr. Houston, who initially retired in 2005 and made an aborted comeback attempt with the team in 2008. Soon after, the Knicks seemed to be salvaging themselves from the hoops scrap heap with the signing of stars Amar'e Stoudemire (a Jew!) and Carmelo Anthony. Though I had long since stopped following basketball religiously, I began to very casually root for my old team again.
In 2010, with the legal battles over the Barclays Center finally finished, it became clear the Nets were definitely headed to my home borough. A major-league sports franchise in Brooklyn was something I had dreamed of as a child, but my enemies had been vanquished, and the idea of shifting my sports loyalties was hard to stomach.
Last year, along with many other New Yorkers, I was fully pulled back into the Knicks' orbit as point guard Jeremy Lin led the team on an improbable and electrifying run. For the first time in over a decade, I even tried to go to a game. Alas, I found the home court at the Garden was sold out, inaccessible for less than $175.
Just when it seemed the Knicks were beginning to win back the hearts of Big Apple basketball fans, re-learning how to play basketball, our hopes for the team were crushed when management made a series of baffling offseason moves that included losing the likable Mr. Lin and signing a slew of past-their-prime players, including convicted domestic abuser Jason Kidd.
Like all massive train wrecks, the Knicks' self-destruction this past summer was utterly riveting. I devoured every bit of the coverage and, in the course of this masochistic sports-page reading, learned that one of the villains from my rogues' gallery was still lurking around the locker room. Mr. Houston had since become the team's general manager and was yet again participating in the ruination of the Knicks, this time from the back office rather than the backcourt. I was done.
And conveniently, I had a new team to embrace, just a little over a mile from my house.
I know the Nets aren't championship-caliber yet, but it is clear they are building a solid foundation and, more important, they represent my motherland.
As I contemplated this monumental decision, I sought the counsel of an old classmate, Isaac. Though we had seen each other only sporadically in our post-college years, he had been seated next to me in the nosebleeds during most of the Knicks games I attended in high school. When I called him, I explained that I was thinking about defecting to the Nets. Though Isaac is a Manhattanite, he admitted he was also wavering, and said he would attend a Nets game this season to "see how it feels."
A little over a week ago, I went to the Barclays Center for my first Nets game. Though the team has been using the Jumbotron to encourage a variety of chants from the audience, the only cheer that seems to stick is fans simply shouting "Brooklyn." It felt right. I was home.
After Monday night's win over the Knicks, I received two text messages from Isaac, who, for now, is sticking with our old team.
"Oh man," he wrote. "Oy. Congrats."
My reply consisted of just two words: "Join us!"
He has yet to answer.