Description: "She kept one for each encounter, and stitched them together like furs to create her trophy ..." -
Moxiekin
dgrantobserver
Description: A fun
Fifty Shades of Grey
quote typography print for your home. It would also make a fun and affordable gift for that Shades of Grey mother! —
modernhomeprints
dgrantobserver
Description: Perfect for Baby Shower, New Mom, Mom to Be! —
My4boys911
dgrantobserver
Description: You will receive 12 pieces: mask, tie, helicopter, lips, handcuffs, 50, piano, Eiffel tower, wine glass, laptop, ice cream cone and key! Perfect for charm bracelets, pendants, earrings, zipper pulls, bookmarks and key chains! --
BohemianFindings
dgrantobserver
Description: 50 Shades of Grey Solid Perfume Sticks - Quantities of 20 or More at $1 each. Made in our newest fragrance oil called 50 Shades. A seductive marriage of tainted rose and wild geranium with addictive, "can't live without it" notes of bergamot and gold amber. We tested out this fragrance this week in our store and sold out by Wednesday! It's a super sexy fragrance, our newest favorite. —
MajesticSoaps
dgrantobserver
Description: This onesie "9 months ago, my mommy read 50 shades of grey" can be done in any color print. Please let me know size and if you'd like a different color at time of purchase. Thank you! —
lambiesbands
dgrantobserver
Description: Well, the title says it all. This flogger features rubber falls and rubber handle. There is a brass o-ring for better storing or hanging purposes. It is complete vegan and made from recycled rubber. —
A2zrecycled
dgrantobserver
Description: The Design On The Hoodie Is Little Darker Than Picture. Make Sure You Wash The Hoodie Inside Out With Cold Water Before You Wear It. If You Are Not Happy With The Item What You Received Please Let Us Know We Can Exchange It Or Return It. —
TeesGame
dgrantobserver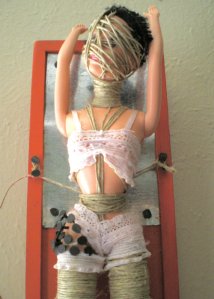 (Photo via ModernGirlArtist)
Sometimes even journalists run out of ideas. Instead of watching the world with one eye on the beat, we make a hypothesis, find three examples of it, and call it a trend story. That's not what this is. This is a legitimate non-trend, and let's hope to God it stays that way.
But sometimes you stumble upon something too disturbing not to share with the rest of the world. These available pieces of Fifty Shades of Grey-inspired ephemera found on Etsy.com are a few of those things.
And hey, we are not trying to say that you shouldn't love Fifty Shades of Grey! Everyone loves that book, especially your mother. But maybe wait a couple months before turning your newborn infant into a gurgling marketing device for that book? Can we agree on that, at least?