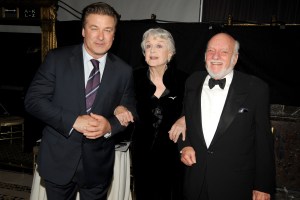 The townhouse at 48 East 74th Street certainly puts on quite a show with a bold blend of eras and prints (we counted floral, paisley, plaid, cheetah and polka dot to name just a few). Would Broadway producer and director extraordinaire Harold Prince have it any other way? With the exception of the Great White way, of course.
At $22 million, this is a house that even the most ambitious chorus girls and company members won't bother auditioning for. Heck, not even stars of the stage could afford the price tag on this Georgian manse. Such a spread best suits Broadway royalty like Mr. Prince (a 21-time Tony Award winner) and his wife Judith. And they only paid $12.5 million for the place when they bought back in 2009, according to city records.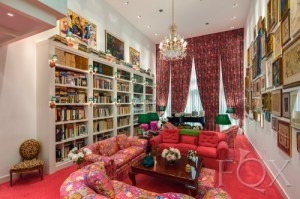 Still, the property appears to have gone through a big costume change since the Princes moved in, shifting from a sleek modern space behind an old-fashioned facade to something a little more eclectic. Overstuffed sofas, tasseled lamps and carpet that looks magnificently foot-muffling just from the photos (we suppose Mr. Prince has heard more than enough dancing feet in his lifetime) fill the 20-foot wide, six-story house. Not that everyone is a fan of the new look.
"Personally, I thought it was great the way it was before," one broker told The Observer. 
At least it's anything but the same old song and dance in the five bedroom, five full-bath, three-half bath and one staff bath listing, held by Barbara Fox of Fox Residential. There's a "stunning skylight atrium which runs from the ground floor to the roof and floods the house with sun"—a clever solution to the darkness challenge faced by many townhouses, although not so Georgian—and  a double-height living room with huge windows. We're not surprised that a man who spends so much time in darkened stage sets would crave some natural light.
Why he's decamping after just three years is beyond us. Surely there's enough space here for him and all 21 Tony Awards?
kvelsey@observer.com