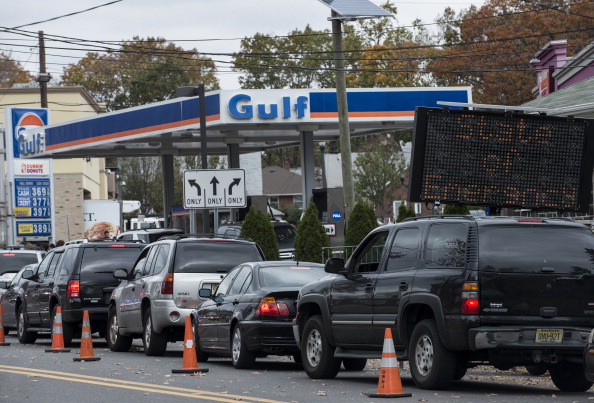 Many New York City drivers were hoping that gas rationing might be over today, as it has already expired in New Jersey and out on Long Island following the fuel crisis sparked by Hurricane Sandy. But the Bloomberg administration has decided to extend the odd-even rationing system through Friday.
"The odd-even license plate system has worked well and helped to reduce wait times and lines at the pump," Mayor Bloomberg said in a release. "With 30 percent of gas stations still closed and a major travel week coming, I am extending the successful odd-even system on gas and diesel fuel purchases to ensure we do not risk going back to the extreme lines we saw prior to the system being implemented."
The rationing plan was set to expire today, but with the city only at two-thirds capacity, the administration believes it is better to keep the rationing in place, even if it inconveniences drivers.
Some fear this might wreak havoc on their Thanksgiving travel plans—Wednesday will be the busiest travel day of the year, after all—but City Hall says it is taking this step because of, not in spite of, the rush for the (highway) exits.
"Because we are putting out the extension today, we're giving people the message they should plan ahead," a Bloomberg spokeswoman said. "This way, people won't be stuck in longer line waiting for gas when they're trying to leave the city."
The administration had been criticized for waiting 10 days to implement its gas rationing program, which New Jersey Governor Chris Christie started within days of the storm. Theirs was ending just as ours was starting, but since the New York City program went into effect, there has been almost no reports of lines outside stations. Still, with capacity limited, the administration does not want to risk a relapse by reopening the pumps to all.
Currently, drivers with license plates ending in even numbers can buy gas on even days, and those with odd numbers on odd days. Those with lettered vanity plays are, naturally, odd. Commercial vehicles, doctors license plates and cabs remain exempt from the restrictions.
Police officers remain stationed at gas station's throughout the five boroughs to maintain order.
Keep in mind, Wednesday is Nov. 21, so those with even plates should be sure to fill up the tank on Tuesday if they will be leaving town the next day, or at least save enough gas to make it to New Jersey.
Never thought we'd actually be looking forward to crossing the Hudson.