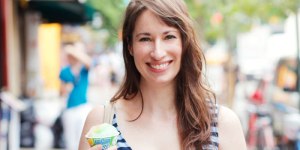 Jen Doll, a senior writer at The Atlantic Wire, signed a deal with Riverhead  for a memoir about being a frequent wedding guest.
Ms. Doll's agent, Ryan Fischer-Harbage, sent out the proposal during the Hurricane and sold it to Alexandra Cardia at the Penguin literary imprint  just before Thanksgiving, Ms. Doll told us. The book, tentatively titled I Bought You a Kitchen Aid, chronicles the endless series of weddings that Ms. Doll has attended. Ms. Doll has been to a lot of weddings–over twenty, she elaborated when we reached her this afternoon.
"I started thinking about all of the different ways in which we live out this weirdly formal, weirdly pressurized, often amazing, often hilarious, and sometimes grueling event, like it's some kind of Wedding Groundhog Day," she said.
But really, it's a book about the way we live now. And what that says about us.
"As modern people, we go to wedding after wedding after wedding, and there are no signs of that stopping as we marry later, don't marry at all, or marry and divorce," Ms. Doll explained. "What does the wedding cycle mean about how we view the institution—and about how we view love?"
Last April, Ms. Doll wrote an essay recounting the weddings she had been to for The Hairpin. Although she said she  had the idea for something  book-length on the topic before The Hairpin piece, writing the essay–and the reaction to it–"cemented [her] desire" to do the book.
And like all memoirs, it is ultimately a book about the author–and the author finding herself.
"Ultimately it's a book about finding yourself, and what you want, in an evolving marriage culture. Oh, and it's funny!"