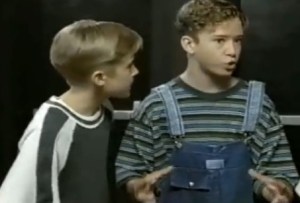 We know you've seen the video of Mouseketeers Ryan Gosling, Justin Timberlake, and JC Chasez singing "Cry For You" on The Mickey Mouse Club, back before their relative successes (and in one case, slide back to anonymity). But have you seen the video of just Gosling and Timberlake harassing the all-female R&B group Xscape? Do you want to? Are you sure?

While "that's good and all" that the name Xscape comes from the girls' desire to be unique and original (or something), it would be much better, in the boys' opinion, if they could "make it a little more exciting."
"Yeah, like throw in that whole terrorist thing, and maybe add some machine guns!" Mr. Ryan exclaimed.
Adds Timberlake: "Yeah, and explosions! Fiery explosions are really cool! BOOM! BOOM!"
[protected-iframe id="a786acf9d0e47f4769908961fc444636-35584880-35147716″ info="http://www.jest.com/e/152523/young-ryan-gosling-and-justin-timberlake-try-to-talk-to-girl-group" width="610″ height="343″ frameborder="0″]
Woo-buddy. We don't know who wants this clip buried more: Disney, Timberlake, Gosling, or the women of Xscape, who are probably just trying to live out normal lives at this point.