Update 6:32 a.m.: Here's the current map for your Monday morning commute, with all the latest subway lines colored in. Almost looks back to normal, don't it?
Original post: One of the miracles of the MTA's restoration of the subway system is how many lines the transit agency has managed to get up in running in such a short amount of time. With the exception of the L and the G, every single line is running in some fashion. There are the standouts, like the numbered trains, all of which are back to full service, end-to-end, and then there are pieces like the A-train to the Rockaways, which will be out of commission for who knows how long due to damage to the crossing through Jamaica Bay.
Numerous warning came today from the governor, mayor and MTA chief Joe Lhota that commuters tomorrow should exercise patience and caution. Go to work a little early or a little late, if you can manage it. Already trains will be running less frequently all day, about one every 10 minutes on the lines that are up, god willing there are no breakdowns on the tracks that have been heavily taxed by salt water and other extreme conditions never before fathomed.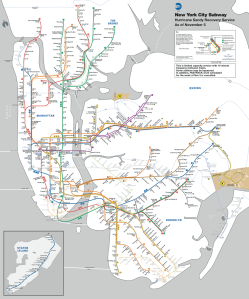 "We are in uncharted territory here in bringing the system back," Mr. Lhota said at a press briefing earlier. "It's very different from what we had in Irene because of the amount of damage and the saltwater in our system. We will do everything we can to get everyone there. I just ask everyone to be understanding, and also try to think about flex time and try to leave a little bit earlier or a little bit later."
As of midnight, service had resumed on the E-train between the World Trade Center and Parsons/Archer in Jamaica, Queens, yet another connection between the outer boroughs and Manhattan. Also, the A-train is traveling under the East River, connecting 168th Street in Harlem to Lefferts Boulevard in Brooklyn. Service on the Q-train between Astoria Queens and Kings Highway in Brooklyn has also been restored.
These connections are not yet visible on the MTA's evolving subway map [PDF], but some restorations from today, like the J-train back to Manhattan and the F-train's completed loop are. The hope remains to connect the 1-train to Rector Street and the J-train to Broad Street by rush hour tomorrow.
You can read more about the restoration of service here.