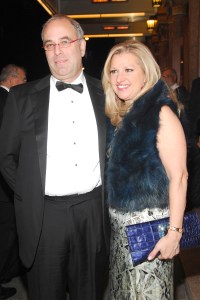 When Lauren Muss and John Matteson saw the two-bedroom, 2.5-bath co-op for sale at 180 East 79th Street, they must have decided that they could not wait, they had to act now. After all, the price had been slashed from $3.2 million to just $1.99 million and supplies might not last.
We're not sure if the sellers—Home Shopping Network CEO Mindy Grossman and husband Neil made the familiar sales pitch—but Ms. Grossman must have picked up a few tricks of the trade at the helm of HSN, the oddly enchanting channel surfing favorite of those with cash to burn and too much time on their hands. 
Still, Ms. Grossman, who bought the classic six in 1999, according to city records, did not have an easy time with the sale of the "chic, streamlined space." It bounced through three brokers and series of price cuts after it hit the market asking $3.2 million in January 2010 (shipping and handling not included).
But who would risk missing the opportunity to own "a masterful combination of the best features of prewar living with the light and scale of a downtown loft," as the listing, held by Douglas Elliman broker Sabrina Saltiel gushes in a fashion befitting the station of shut-ins and fallen stars? At least that used to be the station's reputation before Ms. Grossman took the reins, giving it a gloss of sophistication.
Much like HSN, the apartment has benefited from Ms. Grossman's upscale touch: ebonized oak floors, elegant translucent glass walls, artistically concealed cabinetry and stone countertops.
Ms. Grossman, who keeps a primary residence in St. Petersburg, Fla., where HSN headquarters is located, apparently tired of what was or had turned into a pied-à-terre since she became CEO in 2006. The company does keep a set of sleek offices in the city, but sometimes a woman has to admit she doesn't need all the things she wants, even when those things are genuine cubic zirconia earrings or airy Upper East Side co-ops.
Did Ms. Grossman throw in a beautiful free gift to seal the deal with Ms. Muss and Mr. Matteson? We're guessing she considered $90,000 off the already deeply discounted price of $1.99 million gift enough. That $1.9 million can, of course, be paid in six easy installments of $316,666.66.
kvelsey@observer.com