It looks like Billy Maklowe and wife Julie will not be getting a new home for the holidays. At least not at 950 Fifth Avenue. While the New York Post reported that real estate scion (son of Harry) was in contract to buy a 12-room co-op there this November, it looks like the deal has fallen apart.
At least a deal has fallen apart. The paper trail shows that the sprawling duplex, which first hit the market in July with Stribling brokers Cindy Kurtin and Jessica Vertullo Maher, went into contract in October. Only to re-emerge, back on the market, at the very end of November. Whether or not the rebuffed or regretful potential buyer was Mr. Macklowe, who helms William Macklowe Company, remains a mystery. Ms. Kurtin gave The Observer a "no comment" when we reached her on the phone.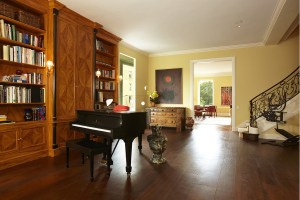 The apartment was then, and is now, asking $27.5 million. Mr. Macklowe, according to the Post, was in contract for something below that. Could the building's board have nixed what it felt to be too low of a price?
As we noted before, the grand apartment would seem an ideal home base for a business mogul. Mr. Macklowe has been making more and more of a name for himself and a $27 million apartment on Fifth Avenue is a way to announce that one has arrived.
Besides, sister Elizabeth Macklowe lives a hop, skip and a jump away at 740 Park (At least for now. Ms. Macklowe and estranged husband Kent Swig's apartment is said to be in the midst of foreclosure proceedings.)
Maybe the place was too grand? There's fancy and then there's fancy. This duplex is fancy, with wood burning fireplaces galore, parquet de Versailles floors, 11-foot ceilings, a windowed eat-in kitchen and park views. The banister to the second floor? Hand-crafted wrought iron and gilt.
kvelsey@observer.com