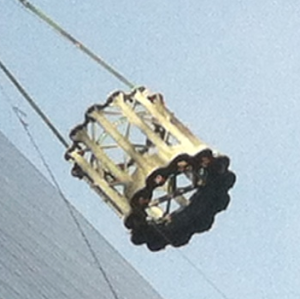 Crane-lifts up the side of any building are a delicate affair, let alone up the side of 104-story glassy tower with sloping sides at the center of the most-watched construction site in the world. That is why it seemed like the Port Authority was taking its time this morning as its construction workers carefully hoisted up the first crowning piece of 1 World Trade Center's spire. After all, the media, as always, were watching.
A small cohort of workers in high-vis jackets went about the work of checking the heavy lift sling and talking back and forth through the crackle of radio static. There was a quick speech for the cameras, and then without much more ceremony than that, honeycombed steel circle edged up into the air. Nothing more complicated than any of the tens of thousands of lifts the north crane has made in the construction of this building, if only important now in its symbolism: the final pieces.
Outside the construction site, from the PATH station, waves of people, businessmen and -women, tourists and steelworkers, went to work. A few stopped to grab quick photos of the steel nest as it was suspended in the air. The $20 million, Canadian-made, 408-foot crown was built to serve the broadcast station planned for 1 World Trade. According to Port Authority managers, it is a technical marvel.
"Everything on this project is either cutting-edge, state-of-the-art or something that's never been done before," WTC construction director Steve Plate told reporters this morning.
Watching from the street, The Observer didn't see anything particularly cutting-edge about this specific piece of steel. If anything, it almost looked like something carved by nature in its rigid perfection. But it wasn't the technical aspects of the installation that were stopping people in the street. The crowning of this building, despite controversy and for all the obvious reasons, is a moment for New Yorkers to celebrate.