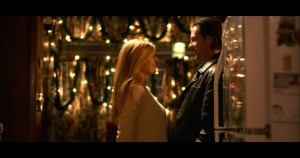 Seventeen years after his impressive 1995 debut film The Brothers McMullen, writer-director-actor and indie-prod summa cum laude Edward Burns returns to the working-class Long Island landscape of his first success with The Fitzgerald Family Christmas. You can't go home again.
In this overly familiar and ultimately meandering exercise in tedium, Mr. Burns also plays the lead—Gerry Fitzgerald, the oldest of seven children in an Irish Catholic clan overwhelmed with personal problems, struggling to get through the holidays without an act of home sweet homicide. After their father deserted them 20 years ago, the unmarried Gerry sacrificed his own life to stay home, care for his miserable mom (the wonderful Anita Gillette), and become a surrogate father to his six siblings, without one word of appreciation or thanks. Now, three days before their mother's 70th birthday, he's still trying to drum up some family spirit, but everyone is too preoccupied to so much as bake a cake. Sister Dot is divorcing her husband and having an affair with the boy who mows her lawn. Sister Sharon and her rich older boyfriend F.X., joined by brother Quinn and his much younger fiancé Abbie, all abandon the birthday dinner and run away to the Hamptons for the weekend. Another sister, Erin, is too busy being conflicted, with a Jewish husband to please and a Christmas tree to buy for their new baby's toys. When the fourth sister, Connie, announces she's pregnant, her depressed, unemployed husband J.J. slugs her, and the whole family comes rushing to her side to bodily evict him from his own house. Stranded in the Hamptons without a car or an explanation, the enraged lovers of Sharon and Quinn end up together, quite understandably, in a bubble bath and fall for each other. In this growing pile of clichés, holiday hell really breaks loose when baby brother Cyril arrives after a long absence in drug rehab, and Jim, the long-lost father nobody has seen in 20 years, shows up dying of advanced pancreatic cancer and begs to spend his last Christmas with the family. These issues play like the season finale of a dull, draggy television sitcom with disastrous ratings that faces imminent cancellation.
Instead of a warm, fuzzy Linus blanket of a Christmas movie like Meet Me in St. Louis or The Family Stone, the conventional plot lines, predictable soap opera clichés and exhaustingly labored verbosity of Mr. Burns's screenplay just make The Fitzgerald Family Christmas a miserable ordeal. Every member of this vast, obnoxious family has an ax to grind, which means a seemingly endless stream of long-winded discussions, arguments and true confessions that nobody wants to hear in the first place. The characters are so self-absorbed, self-centered and self-indulgent—not to mention self-righteous—that they don't even like each other, much less convince the rest of us of the value of unbreakable family bonds. When one sister finally announces "I think families are overrated," you may want to cheer.
The actors are fine—especially the senior cast members, Ms. Gillette, Joyce Van Patten and Ed Lauter—even though they never stop whining. But as a writer, Mr. Burns has forgotten to make the characters likeable, and there are so many of them you need a diagram to both connect them and tell them apart. Dysfunctional families during the Yuletide season are nothing new, but you usually grow to like them before the turkey is served. Spending Christmas with the Fitzgeralds is like being locked up in a psycho ward with a gang of manic-depressive drunks in Santa Claus suits
THE FITZGERALD FAMILY CHRISTMAS
Running Time 103 minutes
Written and Directed by Edward Burns
Starring Kerry Bishé, Connie Britton
and Edward Burns
rreed@observer.com