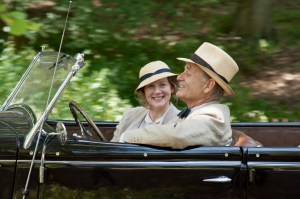 Let others slobber over Daniel Day-Lewis as Abraham Lincoln. In this year of looking over our shoulders at past leaders with more heroic leadership qualities than the ones we've been getting lately, I'll stick with Bill Murray as Franklin D. Roosevelt. There are two Hyde Parks—one in London and one in upstate New York on the Hudson River, where FDR made his summer home. Hyde Park on Hudson is an elegant, entertaining warts-and-all portrait of the 32nd U.S. president and the momentous summer weekend in 1939, on the eve of World War II, when two worlds melded and he hosted America's first royal visit by a British monarch. The arrival of freshly anointed King George VI and his wife Elizabeth blends the stuffy formality of English manners with the down-home flavor of an American picnic in a film that is guaranteed to enthrall. It's The King's Speech with hot dogs and mustard.
The royal visit turned Hyde Park upside down. Still spinning from the abdication of Edward VIII and his scandalous marriage to a divorced woman and "an American, of all things," the Brits were skeptical, but they needed support for the inevitable war. The Americans were rendered no less cautious by the presence of an inexperienced king who stuttered. To thicken the stew, there was also the urgent need on the part of his staff and advisers to hide Roosevelt's true nature—an unquenchable passion for the ladies that turned the summer White House into a hotbed of sexual shenanigans while he was confined to a wheelchair and his wife Eleanor turned the other way, including simultaneous affairs with his loyal secretary "Missy" LeHand (Elizabeth Marvel) and his prim, dignified spinster cousin Margaret "Daisy" Suckley (warmly, engagingly and intelligently played by Laura Linney), who had a special talent for giving FDR discreet hand jobs on jaunty country drives through the back roads of Dutchess County in his cherished convertible. Based on Daisy's private journals and diaries, discovered after her death, the rich screenplay by Richard Nelson draws a parallel between the trusting friendship that developed between two courageous, insecure world leaders (a stammering king on the verge of leading his country into war and a polio-stricken president who had just guided his people through the Great Depression) and the painful discovery by his disillusioned lovers that FDR was a very different man than the one he projected to the world at large. Threading myriad disparate elements into a rich needlepoint of humor, pathos and period detail, veteran director Roger Michell has created a sumptuously photographed feast, filmed in the actual historical locations 90 miles north of New York City. From the scurrilous details of FDR's horny meetings behind closed doors with a variety of conquests (including New York Post owner-publisher Dorothy Schiff), to the silken settings of his mother's manor house, everything about Hyde Park on Hudson is a thrill to discover and behold.
The cast brings it to life with sparkle and aplomb. The great Elizabeth Wilson is severe and imposing as FDR's dragon-lady mother, Olivia Williams shows why the legendary Eleanor was an icon to millions but an abused and neglected wife to her husband in everything but affairs of state, Samuel West is a sensitive and astute king and Ms. Linney projects a powerful, pristine influence throughout as the chosen interloper—not really an outsider, but hardly a member of the inner family circle; left out of the official festivities, yet summoned at odd hours when the president needs a shoulder to lean on; opening doors to let in the light while averting prying eyes. But at the center of the action, holding the pieces together with infectious dazzle, a droll Bill Murray simply seizes the center ring and holds one's attention from beginning to end. Wryly wringing crinkle-browed humor from FDR's deadpan speech and singsong cadence, puffing away on his trademark cigarette holder and dropping ashes wherever he settles, with his upper teeth protruding when he smiles and his eyes twinkling when his robust sexual appetite surfaces, Mr. Murray channels the enormous humanity and popularity of the only U.S. president to be elected three times in a row with quotable one-liners and enchanting grace. He's proud when he shows off his stamp collection, touching in his desperation for rare moments of privacy and relaxation, wickedly amusing as he admonishes Bayer aspirin for his sinus infections, and exasperating when he flies through the woods in his convertible with specially designed controls on the steering wheel and the Secret Service in hot pursuit. He's especially moving in the poignant late-night candor he shares with the king, pouring out the whiskey and putting him at ease while
sharing his own flaws as both a leader and a man. The film delves beneath the arch reserve of the royals, revealing them as real people, too.
In the truth about how Eleanor was betrayed, making peace with her separation and remaining the first lady in name only; in the bond forged by two men whose alliance would ultimately defeat the stormclouds of global war; in the boundless charm exerted by a great man over a world in panic, there is revelation in every frame of Hyde Park on Hudson. It's clearly intended for the masses that fell in love with The King's Speech, but it adds an extra dimension of its own to world events. In beauty, tone, technical achievement and cinematic artistry on every level, Hyde Park on Hudson is a movie unto itself—funny, believable, historic and hugely entertaining.
rreed@observer.com
Running Time 95 minutes
Written by Richard Nelson
Directed by Roger Michell
Starring Bill Murray, Laura Linney
and Olivia Williams