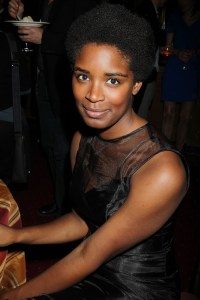 "There was something about the invitation that made me wear a jacket," the novelist Sam Lipsyte deadpanned last Friday night at a magazine launch in an apartment on West 10th Street. Yes, some usual suspects were there—Jeffrey Eugenides, Ben Marcus, editors from The Wall Street Journal and Newsweek, and writers from The New York Times and The New Yorker—but aside from that, this wasn't your average literary party: the attire was more art-world chic than MFA tweedy.
The American Reader isn't your average literary magazine. The Princeton grads who run it have barely closed their second issue, and already it is being hailed as the next Paris Review or n+1.
But Uzoamaka Maduka, the 25-year-old editor in chief, doesn't go in for the comparison. She's looking for wider appeal.
"There's a way in which both the larger society and the literary world have collaborated in allowing the literary world to be very hermetic and recede from the daily back and forth of culture," she told The Observer over coffee last week at Jack's Stir Brew Coffee in the West Village
Ms. Maduka, who goes by Max, and her boyfriend, Jac Mullen, came up with the idea for a new magazine on Mr. Mullen's fire escape last winter while having yet another of their countless conversation about what's wrong with the state of literature. They wanted something serious-minded that focused on Literature (with a capital'L')rather than the literary scene. They wanted to prove that their generation could read more than tweets. With funding from an anonymous donor, they  began reaching out to people they knew from college, like Alyssa Loh, their digital editor, who lives in the 10th Street apartment where they had their party.
Then they started pulling in the big guns. Mr. Mullen emailed one of his favorite contemporary writers—now Ben Marcus is the fiction editor. Ms. Maduka got in touch with Dean Young, her favorite poet—he is now their poetry editor.
"It's like when you have a kid or a friend and you're willing to do things on their behalf that you wouldn't do for yourself," Ms. Maduka said. "I would never email Dean Young and be like, 'Let's hang out.' But I would for the magazine."
Or maybe it's the brazenness of youth.
"We are young, and when you are young, you have less inhibitions, and you just power through and don't think about how it doesn't make sense," said the magazine's 32-year-old creative consultant, Shala Monroque, a regular on the international art and fashion circuits who has been romantically linked with the art superdealer Larry Gagosian.
At their party, Ms. Maduka attributed the stylishness of the crowd to Ms. Monroque. Ms. Monroque attributed it to Ms. Maduka's editorial vision.
"It was immediate, automatic; I was really inspired by what Max was saying about the magazine," Ms. Monroque said. "I'm often really bored at fashion parties, and it's nice to get to have intelligent conversations."
Ms. Monroque was introduced to Ms. Maduka through the Reader's editor at large Stephanie La Cava, whom Ms. Maduka met at a PEN event. The other editor at large is writer Sage Mehta, a fellow Princeton alum and a recognizable face on the literary circuit.
It's an impressive masthead, and some of the credit for that is likely due to the editor's persona.
Despite her youth, Ms. Maduka, who is Nigerian-American, is a commanding presence. Part of that is due to her height—she is over six feet tall—but it also comes from her style. An afternoon coffee merited an ankle-length black dress, dangly zig-zag-shaped rhinestone earrings, an oversize quilted black coat and liquid eyeliner.
"She is always so well-dressed," said Ms. Monroque, who knows from well-dressed, being creative director of the art and fashion magazine Garage. "The first time I met her, she had on this blue turban to the side and her Afro hair was sticking out. She looked like a different version of the girl with the pearl earring. And then she opens her mouth and immediately is impressive."
Impressive, but not aloof or off-putting. Ms. Maduka comes across as just another 25-year-old aspiring to work in the lit world, as though she could have climbed the editorial ranks at The New Yorker or Harper's but instead decided to start her own thing, and just happened to meet the right people at the right time.
Ms. Maduka met Mr. Mullen, the magazine's co-founder and executive editor, during her senior year at Princeton, when she was editor in chief of the student-run Nassau Weekly, the highbrow humor and arts alt weekly that was co-founded by David Remnick and John McPhee. Mr. Mullen, a year below her, wrote for the Nass.
"Working at The Nassau Weekly really primed me as a thinker and a critical writer," she said. "I can't imagine I'd be doing anything I'm doing today if I didn't write for the Nass."
Her path to The American Reader was somewhat circuitous. After graduation, she did a stint as an au pair in Switzerland, then wrote in Croatia for three months. Mr. Mullen took a year off of college to tag along. Back in America, Ms. Maduka interned for Verso Books, an independent publisher of mostly translated political theory.
Ms. Maduka grew up in Columbia, Maryland—a planned community between Washington and Baltimore. For her, the title The American Reader has something of a personal resonance: she is the only member of her intimidatingly accomplished family who was born in America. Her father, who emigrated from Nigeria with the rest of the family right before Ms. Maduka was born, is a doctor, her mother a chemical engineer. She has two older brothers who work in finance, and a sister who worked for the Clinton Foundation's HIV/Aids Initiative, was the dean of Oprah Winfrey's Leadership Academy and got an MBA from Harvard.
"I benefited from being raised always on the edge of something," Ms. Maduka said. "I'm black, but I'm not African-American. I'm African. I'm Catholic. That sense of constantly being lost in translation allows me to stay marginal in a way."
She is aware of something that many magazine editors probably don't often stop to notice—that she is operating in a white world.
"The literary scene in New York is one of the last bastions of white male privilege," Ms. Maduka said over coffee, explaining that it there is still a narrow framework for diversity. "Even when you bring in women or people of color, it's still, like, Harvard, Princeton, Yale. I went to an Ivy. Look at what I'm wearing"—she gestured at her dress, rhinestone earrings, quilted coat—"This is ridiculous."
The magazine is run out of a spacious Washington Heights office that doubles as Mr. Mullen's apartment. Ms. Maduka lives nearby in a townhouse full of Juilliard students she found on Craigslist.
Visiting The American Reader HQ on a recent Sunday afternoon, The Observer was greeted at the door by Ms. Maduka, who was casually stylish in a long black jersey skirt and a striped sweater. Mr. Mullen, in jeans and a blazer, was fighting a cold—he'd spent too much of Friday's party on the chilly roof.
Books were stacked on the floor in the living room, and dishes were piled in the kitchen sink. Mr. Mullen's grandmother's paintings hung on the walls. French doors separated the living room from the office, where whiteboards and Post-It notes spoke to the challenges of putting out a monthly magazine with a skeletal staff.
Before we left the office, Mr. Mullen asked us if we wanted to join him for a smoke on the fire escape. "That's where a lot of this happens," he explained.
Standing on the catwalk-like aerie overlooking an alley, Ms. Maduka pointed to a dead pigeon on the landing. "We were trying to get the super to take care of that, but he gave up," she said. "That's where the glamour ends. The other night, we came home after the party and there was a dead pigeon."
But as for the glamour, it would seem that, on the contrary, it is just beginning. At the party on Friday night, best-selling authors were among those singing happy birthday to Mr. Mullen. He was turning 25.