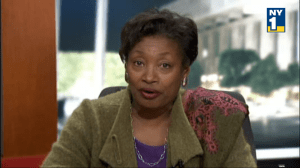 Earlier this week, State Senator Andrea Stewart-Cousins was elected to be the next leader of the Senate's Democratic conference, but, even though Democrats will have a numerical majority in the chamber, a breakaway group of Democrats will place Ms. Stewart-Cousins' caucus in the minority. Some partisans and activists have criticized New York's top Democrat, Governor Andrew Cuomo for not intervening in the matter or even expressing support on his party's behalf, but in a pair of TV appearances last night, Ms. Stewart-Cousins argued attention should instead be focused on his agenda, which "coincidentally" is hers as well.
"I met with the governor today, he wanted to talk to me and I brought colleagues with me," she said on Inside City Hall. "We did have a good conversation, we had an open discussion. We talked about the state of the state. We talked about his legislative priorities. Coincidentally, many of his priorities are ours as well. There wasn't a conversation about anger; there was a reality about the fact that Democrats are in a position to, again, to create an agenda and make it happen. I think he wants to make sure it gets done."
Ms. Stewart-Cousins has been going on a bit of a media tour since elected to  her new position. In addition to at least two radio appearances later today, she appeared on Capital Tonight last night too, where she echoed her previous comments about Mr. Cuomo.
"We had a very heartening conversation about his agenda. Of course he wants his agenda passed and his agenda looks very similar to ours. So we talked about working together as partners trying to find ways we can push forward. I think the commitment is really, again, [to] a professional, substantive, productive session. We're willing to work–we want to be partners with the governor, we want to get our work done," said Ms. Stewart-Cousins. "I think that certainly the governor does have an agenda that is quite progressive and realizes that we are likely partners."
Ms. Stewart-Cousins' comments echoed Governor Cuomo's repeated statements during the leadership flap when he argued his concern was not who controlled the State Senate chamber, but whether he'd be able to pass his "progressive" agenda.
Addressing the five breakaway Senators who belong to the "Independent Democratic Conference," Ms. Stewart-Cousins claimed neither she nor Mr. Cuomo knows how their governing coalition with the Republicans will actually function.
"None of us understands exactly how this new coalition is going to work," she added on Inside City Hall. "So we are proceeding optimistically and with the idea that, at the end of the day, the people's business–which is what we are all there for–will get done."
Despite her optimism, she did not express confidence that the IDC will return to the Democratic fold anytime soon.
"I want to begin the dialogue," she said. "I don't know what's going to happen in terms of any big change between now and when we start [the legislative session], but I'm certainly going to make sure that there is no obstacle to us really working together. Hopefully they will agree and will find some common ground. Again, maybe, who knows, we can be Democrats just the way that our electorates expected that we would be."