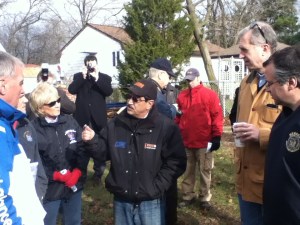 TRENTON – More than a month after super storm Sandy ravaged much of New Jersey, the damage and after-effects remain visible and painful.
A group of Assembly members on Friday conducted another tour of storm-wracked areas, this time in Middlesex and Monmouth counties. Previously, Assembly leaders had toured Ocean County locations.
The purpose of the tour, which followed on the heels of eight Assembly hearings into various aspects of Sandy's damage, including its effect on transportation, utilities, and the economy, was to hear firsthand from business owners and residents what the storm has done to them.
The scheduled tour today included stops in Sayreville, Perth Amboy, Keanburg, and Atlantic Highlands, among other locations.
Speaker Sheila Oliver said the purpose was to "meet directly with residents and business owners impacted by the storm and get a look at the challenges we face together as we ready a legislative response."
And Minority Leader Jon Bramnick said, "The Legislature is unified in helping towns rebuild from this catastrophe."
After the tour Oliver said in a statement: "Touring Sandy-devastated communities and hearing directly from residents and business owners has provided our members with invaluable insight we could not have received from our seats in the Statehouse.
"Today also has taught us something important. Although rebuilding needs are similar, each storm-ravaged community presents its own unique set of challenges. Those particular needs must be addressed in our recovery planning as well.
"We will assess what we've seen and heard … and work together to rebuild our communities with resilience and stability in mind. We have much to accomplish for our people and New Jersey's future."
And Bramnick said, "The destruction to homes in Middlesex and Monmouth counties caused by superstorm Sandy was devastating. It will take time to rebuild these communities, but we will do everything we can to get our neighbors back on their feet."