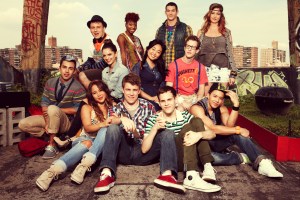 bare, the uncapitalized and undercapitalized 2004 musical about gay love and other teen angst at a Catholic high school, is back to square one.
The production disappeared eight years ago, just short of its New York debut, and later resurfaced in dozens of showings all over the globe. At long last, it is making the six-block trek from tryout (at American Theater of Actors on West 54th Street) to production (at New World Stages on West 50th Street, where it opens on Dec. 9).
"Which is hilarious, since that's where we were going the first time," Jon Hartmere noted wryly in a recent interview with The Observer. Mr. Hartmere wrote the sung-through lyrics to composer Damon Intrabartolo's pop opera, a fevered blend of rock 'n' raunch 'n' religion.
"We were supposed to be the very first show in New World Stages," he recalled. As it is, it will be the 52nd.
The toll of this long, roundabout trip is visible. bare: a pop opera has become bare the book musical—and Mr. Hartmere is the last creative standing.
Looking like the skipper of a sea-tossed ship, he has changed more than bare: "When we first started with the show—this seems so absurd at this point, but I had not come out. The fact I was writing a musical about two boys falling in love was almost therapeutic, in a sense, for me. I remember telling Damon when we first met, 'Oh, I'm not gay,' and he was like, 'Okay.' He absolutely knew, but he was very sweet to wait till I went through my process. Writing the show was a big help."
The onstage romance between altar boy Peter and alpha male Jason has a parallel in his own life. "The characters of Peter and Jason are what I felt I had gone through—sorta two houses of the same person."
bare was born at the University of Southern California. "The whole thing started my senior year in college," he said, and then quickly added, "Well, my fifth senior year. I was one of those people who never wanted to leave college." A mutual friend introduced him to Mr. Intrabartolo, and they started working on the show. That friend, Debbie Lorie, was rewarded for making that connection when they hired her to do orchestrations for productions in Los Angeles and New York.
"We literally had no idea what we were doing—none," Mr. Hartmere said. "I think there was that sort of youthful hubris of, 'We've written something, world. Come check it out.' We did a reading of it for an invited audience, and, when the process wasn't moving fast enough for Damon, he put us on a plane to New York with some tracks we had cut and a script. We went around to all the producers, knocking on their doors and saying, 'Here's a musical.' Then, we went home and waited by the phone and wondered, 'Why is the phone not ringing?'"
Crickets. Weeks of crickets. To drown out the deafening silence, they opted to do it themselves, mounting bare at the Hudson Theater in L.A in 2000. "It was—and I say this in the most loving way—massively overproduced. This was a 99-seat house, with a cast of 24 and a band of six. You could not put another person on that stage."
The big noise they made there—two best musical prizes and four awards from the Los Angeles Drama Critics—traveled East and reached the ears of Dodger Theatricals' Michael David, who ordered an all-stops-out workshop at ATA, where he had just struck the Urinetown gusher. In the spring of 2004, bare was the most anticipated, hotly discussed hit-yet-to-happen around. Then, cruelly, all that just went away.
"There was a lot of 'He said'/'He said,' at the time," Mr. Hartmere recalled, "but the money wasn't there—that's the best way to put it. A couple weeks before we were going into rehearsal for a full production, it all stopped, and there was a scramble to try to get it together. Y'know, these things happen. I'd say, 'These things happen, and that one didn't.' It was a big disappointment, and we walked away a little bruised."
Prior to that poof! moment, bare had put up a persuasive, pervasive smokescreen—a high-decibel, high-energy affair perfectly suited to a story of raging teenage hormones bouncing off the restrictive walls of a Catholic high school. Not only was it sung-through, it seemed danced-through, too—in a constant state of choreography.
For that buoyant memory, the then-unknowns who captained the show can now take a bow. The director, Kristin Hanggi, didn't get to Broadway till 2009, but her show (Rock of Ages) is still running; so, too, is the first Broadway credit of choreographer Sergio Trujilio (Jersey Boys), and he has followed that with Next to Normal, Memphis, The Addams Family, Leap of Faith and, soon, Hands on a Hardbody.
The new bare leaves the directing to Stafford Arima and the frenetic footwork to Travis Wall. Mr. Wall is in charge of the moving and shaking on TV's So You Think You Can Dance, and it's his stage-choreographing bow (he made his acting bow as a 12-year-old denizen of River City, Iowa, understudying for the stuttering Winthrop Paroo, in Susan Stroman's 2000 The Music Man). Young moves are needed, and at 25, he's still got them.
Mr. Arima, who last year resurrected the historically reviled Carrie musical to a level of some respectability, also saw a performance of the flawed bare in New York, even though it never did truly open here. Back then, he was on the brink of making his directing debut with Altar Boys, which was at the theater next door to bare at New World Stages.
"I remember looking up and seeing both shows on the marquee," he said. "They're more different than they are similar, these shows. bare, at its core, is a love story—almost a romantic tragedy—whereas Altar Boys was effervescent, a satire on the world of boy bands. But they both have a very strong score and story and a message—Altar Boys being that of brotherhood, and bare about the right to love."
When the dust and despair of bare's New York non-opening eventually settled, Mr. Hartmere and Mr. Intrabartolo cobbled together a show for licensing purposes from three versions in existence—the L.A. launch, the ATA workshop and the one they never got to do at New World Stages. "We ended up picking what we thought was the best version of the show, and that is the one that has been going around," Mr. Hartmere said. "It's been in some really interesting and unexpected places. There was an Italian version done in Vatican City—can you imagine? bare in Vatican City? It's been done in the Philippines and all around the country. We get a list of where it's been, and there're places where you wouldn't expect bare to be—small colleges and community theaters, in areas of the country that aren't New York and aren't L.A."
In 2008, producer Randy Taradash acquired the rights and decided to do a full-out major production of bare for San Francisco, where the show had never played. To that end, he hired Mr. Arima to direct and Lynne Shankel to music-direct a let's-see-what-we-have-here presentation at (where else?) New World Stages. It went down so well and looked so good in that space that Mr. Taradash's thinking switched coasts.
Joining forces with Paul Boskin and Martian Entertainment, he has returned bare to the aforementioned square one. Lest we forget, NYC also never really saw the show.
Mr. Intrabartolo didn't abandon ship so much as he never boarded it for the return voyage. Since (and even a few years before) bare, he has become one of Hollywood's most in-demand orchestrators/composers/conductors (32 credits and counting).
But he did participate in a five-day summit last summer at Ms. Shankel's New Jersey home, where he, Mr. Hartmere, Mr. Arima and Ms. Shankel plotted the changes to the show. It was decided then that Ms. Shankel would compose any new music necessitated by the switch from a sung-through musical to a book musical.
"I know what's important to Damon, and I can help be the keeper of his flame," she said. "For me, the most important thing is to make sure this feels like a cohesive show. I don't want it to feel Frankenstein-ish, like it was written by more than one person. If I do my job right, people won't be able to tell who wrote what song."
bare is the only project on which Mr. Hartmere and Mr. Intrabartolo collaborated, and, for each, it's his lone theatrical undertaking. Otherwise, both are fiercely film-focused.
Mr. Hartmere, who lives in Los Angeles with his partner (Adam Godley, the British actor who copped a Tony nomination for the recent Anything Goes), writes for the screen—that's the truest way to say it, he contended. "I've mostly been writing screenplays since bare. I've been pulled into that world. Everything I've done has been screen work or TV. I worked on the last Footloose that came out and some Electric Company shows, things like that. It's a lot of development work. You'd be amazed how you can really make a living and never see anything produced. To get it produced is the prize that everybody is shooting for. It's like every star has to align."
Then, there's bare—that fling at theater he put together (while in and just out of college) with Mr. Intrabartolo. It keeps them a couple the way tax auditors keep exes together; since it's found a life, it refuses to leave the stage.
editorial@observer.com