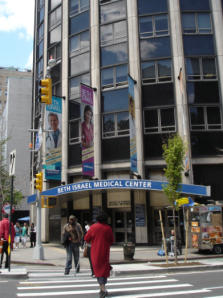 The sign at the entrance to Beth Israel Medical Center on First Avenue at 16th Street screams "EMERGENCY ROOM," but five hours into her wait to be seen for sharp pain in her ribs, it didn't feel that way to Yamira Velazquez.
Her regular hospital, Bellevue Hospital Center, shut down after Hurricane Sandy ripped through the northeast. So did both NYU Langone Medical Center and the VA Medical Center next door. Bellevue won't reopen its emergency room until at least February. NYU and the VA have not yet announced dates.
And so, like thousands of others seeking immediate medical care, she ended up in the emergency room at Beth Israel, the last standing hospital for two and a half miles in any direction.
"I was in pain. It was the worst," she said.
That was on the Saturday before Thanksgiving. Each day brings its own struggles. For patients in the waiting room, Cyber Monday here felt more like a doorbuster event where the prize was a moment of medical attention.
"Oh come on… F**k," said a woman who'd been waited an hour for a nurse to see her mother as a woman cut ahead.
Another man who had been wheezing in the waiting room and said to a nurse, "Ma'am, I can't breathe," to which the nurse replied, "Well you're talking very well."
Ill patients are lucky to find an open seat while they wait for an emergency room doctor, and once there slump over through the long hours. Others hold back vomit—or let it go into pink buckets. Some moan in pain and others scream in a drunken or deranged state at other patients or their imaginations. Before it closed, psychiatric patients and arrested criminals went to Bellevue. Now, they're showing up at Beth Israel.
"The waiting area is a little unsecure," said Melody Rivera, after spending the better part of her afternoon in the waiting room with her sick co-worker. "People were screaming like they're drunk and belligerent."
Before the storm, the 871-bed hospital would average about 320 emergency room visits a day. Now, that number is well above 400, and peaked at 470 at one point in the middle of November, according to hospital officials.
The math is unforgiving: people get sick, and they now have nowhere else to go, a problem exacerbated by the shutdown of St. Vincent's hospital in the West Village. Last year, emergency rooms at the city's Bellevue Hospital Center and the private NYU Langone Medical Center saw nearly 150,000 patients combined, according to state Department of Health data. And the lion's share are now being cared for by Beth Israel.
Double the usual number of ambulances churn down 16th Street into the emergency drop-off zone, peaking once in mid-November at 170 deliveries in a day and  ringing a steady chorus of sirens at the edge of Stuyvesant Town.
The backup is part of a chain reaction. Nursing homes, rehab centers and other continuing care facilities where Beth Israel normally sends patients who are well enough to leave but need further care are packed and outpatient services at the nearby hospitals are just starting to open back up. So in the meantime, they stay in the hospital wards. And then the emergency room can't always find enough beds as new patients come in.
Colette Russen, 42, has been a nurse for the past eight years, and she's still never seen anything like what has been happening at Beth Israel. With each nurse assigned to at least eight non-critical patients or six high-acuity ones, the little things can fall through the cracks and lead to larger problems, she said.
For instance, she was assigned one man with chest pains, and since he was stable she left to care for other patients. While she was tending to the five others she was responsible for, his symptoms started to flare up.
"He had chest pains and his daughter told me that he didn't look so good," said Ms. Russen. "They had to take him for intervention immediately because he had another episode. Thank God his family member was by his side. What if he hadn't said anything and I didn't know he had gotten pale and sweaty and quiet?"
"That's a nurse's worst nightmare," she said.
Beth Israel acknowledges the backups and says it's doing all it can to move patients through and unclog its emergency room.
"With the surge in patients that Beth Israel saw during the storm and in the days and weeks afterwards, we were attempting to safely discharge an unusually high number of patients in an abbreviated time period to try and open up some beds for patients in the ER," said vice-president of communications Jim Mandler via email.
"There is a process that goes with safe discharge planning. It is not only about finding a bed. It's about finding an appropriate bed. We had to make sure that home health services would be available for these patients."
Meanwhile, to make more space in the emergency department—which doubled in 2010 to about 80 beds in response to the shuttering of nearby hospital and long term care facilities—private rooms have been converted into triage and waiting rooms for less acute patients. Staff have converted beds in specialty areas, like short stay detox, to accommodate the influx of more typical patients.
Nursing hours have been extended by 200 per day, said emergency room administrator John Samuels, while physician hours have been increased by a total of 66 hours a day.
"This used to be a private room, but we've turned it into a kind of triage and waiting area," he said, pointing out a dimly lit room with five people waiting for further care. One read a newspaper, another stared blankly at the salmon-colored wall.
He said nursing staff had been bolstered by an additional eight, with two more undergoing training and orientation. The hospital has also put out feelers to find more.
They may be needed. A mountain of research has found that increasing the number of patients that a nurse has to care for leads to worse outcomes. One widely accepted study found that the for every extra patient a nurse is assigned, the risk of 30 day mortality after surgery increases by 7 percent. The national average is about one nurse to five patients, according to University of Pennsylvania professor of nursing and director of the school's center for health outcomes and policy research, Linda Aiken. And some departments at Beth Israel hospital are now at the one to eight range.
"Those would be on the high side," said Ms. Aiken. Departments like general medicine and surgery maintained their pre-storm ratios, but those were already above the national averages. "So for a hospital that already has staffing on the high side to absorb a lot of additional patients over a long time, on the basis of research, would be concerning."
The biggest concern of all for the doctors and nurses is the newly arrived flu season. So far, it has been relatively light in New York City. Emergency department visits for flu like symptoms only account for 1.3 percent of total visits in the city, about half the regional and national baselines and nowhere near the 8 percent level reached during the 2009-2010 pandemic. But if that number were to spike, "that would be scary," warns Nurse Russen.
"A flu epidemic," said New York Presbyterian President Dr. Robert Kelly, when asked to name the scenario that troubles him. "We get crunches some times during the winter where everyone gets sick… it starts putting strain on the system." The Cornell/Weill campus of his network, up bedpan alley on 68th Street, is the closest trauma center to the now-closed Bellevue. It, too, has been swamped by dislocated patients, with surges of up to 150 percent of their usual numbers.
Meanwhile, Beth Israel officials are doing their best to keep up.
Joseph Santora rushed by taxicab from his home on 28th street, a literal stone's throw away from the closed Bellevue and two blocks from NYU Lagnone Medical Center, to Beth Israel.
"I was scared," the 68-year-old said, sitting on the steps leading out of the waiting lobby at Beth Israel Medical Center's emergency room, where some 50 patients with injuries both serious and minor, crowded together in hopes their name would be called next. He had pneumonia and couldn't breathe, he said. "When you can't get oxygen, you really feel like you're going to die."
Because of his urgent condition, doctors zipped him passed the waiting room and into the emergency room for treatment. They stabilized him quickly. And then, like so many others, he got stuck in lower Manhattan's healthcare gridlock. He had to wait half the day to be transferred from the emergency room to the geriatric department on the 7th floor, because, he was told, no bed was available. And like almost every patient here, he was nonetheless thankful for the care he was able to get.
"They're doing the best they can," he said, stubbornly smoking a cigarette despite his condition. "And you have to applaud them for that."