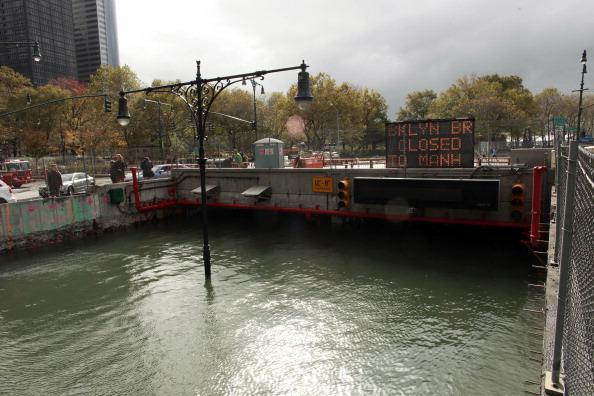 Superstorm Sandy wreaked havoc across the city, including Lower Manhattan, where flooding into tunnels shut down both subway and vehicular traffic for weeks. In a story looking at flooding in the Hugh Carey Brooklyn-Battery tunnel, Dana Rubinstein reveals that none other than developer, macher and civic bigwig Bill Rudin actually welcomed the flooding because it protected some of his harborside buildings.
"I had one very prominent real estate builder who owns buildings in lower Manhattan—actually all over the city—thank me for allowing the Brooklyn-Battery tunnel to be used as a drainage ditch," M.T.A. chairman Joe Lhota told me recently. "I wasn't particularly pleased with the comment."

(Lhota confirmed during our conversation that he was referring to Bill Rudin.)

The M.T.A. has recently begun to float different ideas for protecting the system's tunnels in the future from flooding during such storms, which are expected to increase in frequency as the climate warms. Industrial balloons and flood gates are among the ideas under discussion.

But as Rudin's comments indicate, protecting the tunnels might create problems elsewhere. "The fact of the matter is, if I plug it up, we plug it up, the M.T.A. plugs it up—if God forbid this happens again, the surge is the same or even higher, the water will go elsewhere," said Lhota.

And elsewhere could include the lower floors of nearby buildings, like those owned by Rudin Management at One Battery Park Plaza and One Whitehall Street. Rudin, the scion of a storied New York real estate family and chairman of the influential Association for a Better New York, declined comment.
But even more intriguing than the revelation that a self-styled civic leader welcomed ill on the city's infrastructure is the conclusion of the article, which argues that perhaps we should all embrace such Schadenfreude.
After all, if the tunnels could be designed to serve as moats, with their mechanical systems carefully protected, and easily pumped dry, they could actually serve as yet another form of so-called soft infrastructure serving to protect the city from future disasters. Insulating some cables and installing some pumps would probably be a lot cheaper than building those giant sea gates. The same goes for what we put in the basements of our buildings. Though then there's a debate about all that unused, and often valuable space going empty. Putting the mechanicals upstairs takes up living space, and who wants a boiler in the living room?
Still, rather than trying to stop the water, is there a way we can successfully live with it inside our buildings? That may become the design challenge of 21st-century New York.
Update: Mr. Rudin shares a statement on the future of the city's flood protections.
Update 12/6:Mr. Lhota issued a statement praising Mr. Rudin.