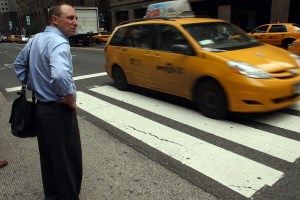 At the end of his weekly appearance on John Gambling's radio show this morning, Mayor Michael Bloomberg took a few calls from ordinary New Yorkers to hear their questions on the city's governance. And, in response to one caller asking if he'd be willing to start handing out jaywalking tickets in the name of public safety, Mr. Bloomberg gave the idea a thumbs up but sounded skeptical about its implementation.
"It'd be a great idea because it would get people to not stand in the street and not cross," he said. "I think Rudy tried to ticket jaywalkers, but from a practical point of view, the cops aren't going to do it [and] the public won't stand for it."
Indeed, former Mayor Rudy Giuliani did attempt the idea, which was apparently greeted with laughter. As any New Yorker walking the streets of Manhattan knows, those rules are not currently in effect.
"It's not a bad idea," Mr. Bloomberg repeated one more time before trailing off. "I just think it in a real sense we're not going to get it done, so anyways–."