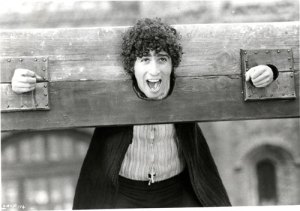 A veteran New York art dealer recently complained to the Transom that the city's art world has become much less fun over the past few years, citing as evidence the fact that no one drinks at business lunches anymore. We'd heard this complaint from other art types before. But could there finally be a change on the horizon?
Bottles of Chianti Classico had been uncorked and were steadily being emptied at the new M. Wells Dinette restaurant at MoMA PS1 around 10 a.m. last Wednesday, along with formidable helpings of blood pudding and eggs Florentine, buttery croissants and hearty maple donuts.
"We have all these pleasures—wine in the morning, this great food," the museum's director, Klaus Biesenbach, told the standing-room-only crowd, which, judging by the conversation, was filled with Italians. "So stay in the mood, and go across and have a look at Teorema and Medea and Salò," the three films he's installed at the museum as part of MoMA's retrospective of Italian 1960s and '70s filmmaker Pier Paolo Pasolini. It takes a brave curator to pair blood pudding with the often-censored Salò, but never mind.
The show had been a long time coming, Mr. Biesenbach revealed. When he started at MoMA years ago, he proposed two exhibitions. "Both of them were voted down," he said. The first was an exhibition of the 16th-century painter Caravaggio. "They said, 'You started at the MoMA, not at the Met,'" he recalled. The second was a show devoted to the films of Andy Warhol, Rainer Werner Fassbinder and Pasolini. "They said, 'No, you can't do this.'"
"In the meantime," he continued, "We have done Warhol, we have done Fassbinder." And now the Pasolini show has arrived, which includes a full slate of his films at MoMA, the film installations at PS1, and a variety of performances and readings of Pasolini's writing.
Pasolini's work had a role in forging Mr. Biesenbach's long and fruitful friendship with the Serbian performance artist Marina Abramovic, whose blockbuster MoMA retrospective he curated in 2010. "Twenty years ago, as a young curator in Berlin, I met Marina Abramovic, and she is a great artist." Mr. Biesenbach said. "She was literally seducing everybody. She walks into a room, she flirts with everybody. She would flirt with the chair." The room erupted in laughter.
"That's how we became such close friends," he continued. "I said, 'Marina, you are like Terence Stamp in Teorema.'" In the 1968 film, a young Mr. Stamp has trysts with every member of an Italian family—husband and wife, son and daughter and, yes, the maid. "She was like, 'Oh, great!'" (For a while, they thought about doing a project on the film, but it never came together.)
Roberto Cicutto, the CEO of Italy's Luce Cinecittà film archive, which helped organize the retrospective, disagreed with Mr. Biesenbach. "Klaus Biesenbach looks very much like Terence Stamp," he told everyone. "Marina Abramovic looks like Laura Betti," the maid in the film. More laughter, making this one of the most joyful press events in recent memory.
Later on, the actor Ninetto Davoli, a red scarf hanging from his neck, took to the podium to talk about working with Pasolini. Except for the fact that his curly mop of hair is now white, he looks just about how he did in those movies 40 years ago. He spoke in quick, energetic Italian and gesticulated grandly, as a translator behind him gamely tried to scribble down his speech.
The Transom, sadly, does not know the language, but at least one part needed no translation, when Mr. Davoli looked heavenward and declared, "Bello e bello e bello!" to much applause. "It's very emotional to be here today," the translator said on behalf of Mr. Davoli. "We made 10 films together, and we worked for many years together." Though Pasolini was derided in many places of the world, the actor said, New York accepted him, and he loved the city. "You can't believe how happy it makes me," he said. "Finally the world is starting to appreciate him."