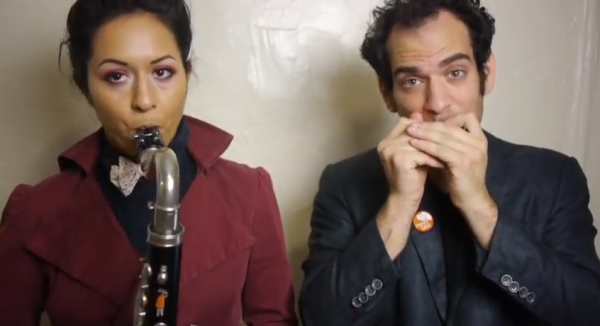 Breaking up is never easy, but Jonathan Mann, star of viral video "We've Got to Break Up," is having a smoother time than most—with fans so touched by his desire for kiddiewinks that they're offering to bear his children. "There was one woman who seemed very sure that the world is going to end on December 21st, and she said 'Hey, join me in Bali, we'll make babies before the world ends.' That was a good one!" Mr. Mann told The Observer over the phone today.
The song was intended as a way of letting friends know the status of their relationship without reducing their news to "straight up Facebook overshares," Mr. Mann said. "It's definitely an overshare," he conceded, "but I like it better this way."
The lyrics were penned by the 30-year-old singer, with lines such as "Just invite us to your parties and we'll work it out/Don't feel weird, we love all of you." The song has evidently touched the hearts of thousands of people, some of whom have been compelled to contact Mr. Mann about his soul searching number. "I have had a few people messaging me on Twitter, but I think they're just joking around," he mused.
But he has no plans to go crying on the shoulders of any sympathetic online laydeez just yet. "I'm happy with the reaction I've had to the video, but it doesn't really affect me one way or the other," he said. "I'm still really sad." He has, however, been putting this new found affection from randoms to good use, divulging: "There was one New York lady who offered to help me with my OKCupid profile. I already have one, and when I sent it to her, she said it was really good!"
Mr. Mann's 1,435th ditty, which he planned a couple of months after splitting up with his girlfriend of five years, Ivory King, became a viral hit yesterday. The musical pair decided to make one last collaboration in the form of "We've Got To Break Up," where they explained that their disparate views on having children meant they could no longer continue the relationship.
And the added YouTube hits will undoubtedly be perking him up too. Mr. Mann has enjoyed "semi" net success in the past with another of his collaborations with his ex-girlfriend entitled "Vegan Myths Debunked," which racked up nearly 100,000 hits on YouTube. "My largest view counts are in the millions, so unless this video gets a couple of million hits, it's just another day in the office," he told The Observer.
And he has spent 1,435 days in the office thus far as part of his Song a Day project. "I started off doing a few songs, and then just kept it going because it was such a good thing for my artistic practice," he told us, explaining how his daily YouTube offerings came to be. " I've never had a day off from it—not even on Thanksgiving," he said.
"I've been really touched by my friends' reactions to the video, and it makes me happy that they've been so moved by it," Mr. Mann said. "It's nice to know that our pain can make other people feel things."
[youtube http://www.youtube.com/watch?v=JoXtkK9d33o]