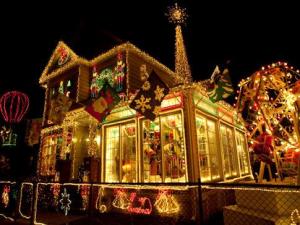 Move over Governor Cuomo. As we explained when Frank Seddio emerged on top of the Kings County Democratic Party, nobody does Christmas like Mr. Seddio. He loves the holiday. A lot.
Mr. Seddio, who has a personal Facebook page named "Canarsie Christmas," hosts a massive annual holiday display at his home in Canarsie that has included balletic animatronic smurfs, countless lights and earned legions of local fans make an annual pilgrimage to E. 93rd Street to view his Christmas decorations.
Though Mr. Seddio's new position as Brooklyn Democratic Chairman means he has far more political duties than he did this time last year, there's no stopping his Christmas cheer and he is ready to come back in full force. To wit, public relations guru George Arzt sent out a 11-paragraph press release detailing the upcoming unveiling of Mr. Seddio's holiday exhibition, which notes the mammoth $300,000 display will have "500,000 lights, almost 100 animated dolls, and a talking Christmas tree."
We have reprinted Mr. Arzt's full statement below, so those of you who are unable to journey to Canarsie to have the pleasure of experiencing Mr. Seddio's masterpiece in person can have a taste of what's in store:
The Seddio family today announced the lighting of their Annual Holiday Display for
December 9, 2012 at 5 p.m. The display is located at the Law of Abrams Fensterman, Fensterman, Eisman, Formato, Ferrara & Einiger LLP on the corner of Flatlands Avenue and East 93rd Street, in the Canarsie section of Brooklyn.
The opening night features musical renditions by local groups as well as a live Santa, elves and a dozen costumed characters. This year choral renditions will be provided by the Public School 115 chorus and the choir of Mary Queen of Heaven. Christmas carols will be played on steel drums by the "Pan Fusion" Steel Band. The event is open to the public.
This magnificent collage of lights, animated figures and talking animatronics has been a Brooklyn tradition since 1963 attracting visitors from around the borough and the city.
Valued at over $300,000, the display includes over 500,000 lights, almost 100 animated dolls, and a talking Christmas tree. This year also features a new addition in a four foot parrot which sings and tells jokes.
Eight separate displays illustrate a different holiday celebration. Santa's workshop includes eight shiny reindeer, elves making toys and Santa himself and is followed by a 15-foot toy soldier who guards the entire display. The inner yard of the property is in circled by an army of toy soldiers riding a carousel of reindeer — over 10 feet in diameter. Other new arrival this year is Papa Smurf and Smurfette ice skating across the front lawn.
Displays include a Van Deer Christmas and a host of Disney characters led by is second only to Mickey and Minnie Mouse decorating an eight foot animatronic singing Christmas tree, nicknamed "Stumpy."
Children stand in front of the Winter Wizard has he recites the "Night before Christmas" in recognition of Brooklyn's multi culturalism. The vignettes are also dedicated to Chanukah and Kwanza.
The display is topped off with a 10-foot high hot air balloon festooned with lights and a 12-foot Ferris wheel which circles the front lawn with a cast of Sesame Street characters.
Construction of the display is solely done by volunteers and typically takes the entire month of November to finish.
This year, the lights will be display dedicated to a noted individual who has served the Canarsie community. They will be displayed in memory of Francky Aleger, a New York auxiliary officer who lived in Canarsie and died this past spring.
Frank Seddio, Chairman of the Brooklyn Democratic Party, is a life-long Canarsie resident. He has been active in numerous community organizations throughout his career and raised his family in this house, which is now his law office.