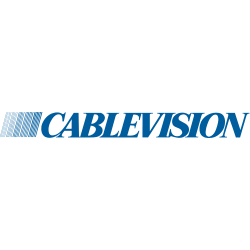 Last night, members of the Communications Workers of America Union distributed flyers calling Cablevision CEO James Dolan an "Ebenezer Scrooge" outside the annual holiday fundraiser for the Lustgarten Foundation, a pancreatic cancer charity supported by the company. Cablevision released a statement about the situation this afternoon calling the union's activities at the event "shameful" and accusing CWA of numerous other misdeeds.
"This benefit was about curing pancreatic cancer. For the CWA union to interfere with this important effort is a new low for a union that has already tried to exploit Hurricane Sandy, intimidate employees and mislead other unions," the statement said. "It is deeply offensive to not only Cablevision employees and customers, but also to cancer sufferers and their families."
CWA and Cablevision have been locked into an ongoing dispute for the past year as the union attempts to organize workers at the television company. Cablevision accused the union of exploiting the hurricane because it has loudly criticized the company for not automatically refunding customers who lost television service during the storm.
In addition to disrupting the fundraiser and "exploiting" the hurricane, Cablevision's statement accused the union of having "intimidated Cablevision employees." Politicker asked the union about the various charges leveled by Cablevision and they provided us a statement denying they tried to disrupt the event.
"CWA fully supports the Lustgarten Foundation's work, and we never attempted to 'disrupt' the event," the statement said. "CWA applauds Cablevision for supporting a Cancer charity, as our flyer last night made clear. Dolan should spend more time bargaining with his employees and improving internet speeds rather than make the outrageous claim that CWA doesn't support cancer research."
The union also doubled down on their criticism of Cablevision's conduct following the hurricane.
"Cablevision is desperate to distract from the indisputable fact that while other companies like Time Warner were offering automatic full refunds to Hurricane Sandy victims, Cablevision is forcing people who may have lost their home to contact them to ask for a refund," the statement said. "Cablevision does not want the public to notice that it is jacking up cable rates on customers, providing lower-quality service across Brooklyn, and punishing hard working employees by witholding pay raises and intimidating union supporters."
Despite the union's protest, Cablevision said the cancer fundraiser was a success.
"Despite the CWA union's efforts to derail the event, a record-breaking $1.75 million was raised to find a cure for pancreatic cancer, a deadly disease that will take the lives of 37,000 people this year alone," Cablevision's statement said.