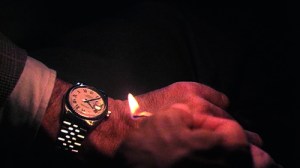 This morning, the Museum of Modern Art hosted a press preview for its presentation of Christian Marclay's 24-hour film, The Clock (2010), which goes on view in a theater built in the museum's contemporary galleries tomorrow, Thursday, Dec. 21. It runs through Jan. 21. Before the film went on view this morning, MoMA's director, Glenn Lowry, discussed the work with Mr. Marclay in front of a packed house of writers in the museum's atrium.
Mr. Lowry wondered, does the artist have a favorite part in the film? "There are so many little moments," Mr. Marclay said. "There is definitely a crescendo at midnight, because midnight is when something terrible is always happening." Noon, he added, is also pretty exciting, and he's a fan of the early morning hours, when things get a little weird. (Spoiler alert: synchronized references to time disappear for some stretches early in the morning.)
One journalist noted that there appear to be clips throughout the work in which time is not explicitly shown or discussed, but Mr. Marclay emphasized that there is always some allusion to time passing. "Someone smoking a cigarette for me is about time," he said. "It's a beautiful metaphor for time. It's probably the 20th-century equivalent of the candle in the 17th century."
MoMA's staying open through the nights on three weekends (and for New Year's Eve) to allow viewers to see the late-night and early-morning hours. However, people shouldn't feel stressed about sitting through the whole thing at once, Mr. Marclay said. "It's not a marathon piece, where you have to sit there for 24 hours," he said. "It's a piece that you have to come back to when you have a moment.…You don't have to see it from beginning to end because there's no beginning and there's no end. Below, a quick guide to seeing the piece at MoMA. —A.R.
Capacity: 130 people (170 with standing room)
Getting In: First-come, first-served
24-Plus-Hour Screenings:
— Monday, December 31, 10:30 a.m., to Tuesday, January 1, at 5:30 p.m.
— Friday, January 4, 10:30 a.m., to Sunday, January 6, 5:30 p.m.
— Friday, January 11, 10:30 a.m., to Sunday, January 13, 5:30 p.m.
— Friday, January 18, 10:30 a.m., to Sunday, January 20, 5:30 p.m.
Admission After Hours: Adults are $12, seniors (65 and over) $10, students full-time with current ID $8, children (16 and under) under free, members free. Available only on site in the museum's lobby.
Food: During the New Year's Eve screening, the museum's Cafe 2 will offer desserts, cheese, salumi and wine from 10 p.m. through 1 a.m., plus an all-night espresso bar.
Updates: @TheClockatMoMA on Twitter and MoMA.org/theclock
Who Owns It? It's a promised gift to the museum from the collection of Jill and Peter Kraus.
Even if you miss part of the film this time, don't worry! As Mr. Lowry told the crowd this morning, since the work is entering the collection, it will no doubt go on view again.