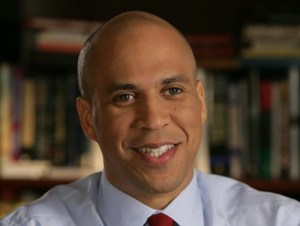 According to a Wall Street Journal report, Newark Mayor Cory Booker is now considering a 2014 run for the Senate seat currently occupied by 88-year-old Frank Lautenberg after mounting speculation he would challenge incumbent New Jersey Governor Chris Christie next year. On the internet, a close advisor to Mr. Booker has prepped for both a gubernatorial campaign and Senate bid. Records show Mr. Booker's fundraising advisor and former City Hall staffer Bari Mattes has purchased the web domains for both "BookerForSenate" and BookerForGovernor.
Update (3:48 p.m.): Ms. Mattes has also registered "CoryBookerForPresident.com."
Ms. Mattes registered BookerForSenate.com, BookerForSenate.net and BookerForGovernor.net on May 15, 2010. She registered BookerForGovernor.com on May 24, 2010. All of the domains expire in May 2014. In March of this year, she registered CoryBookerForPresident.com. The presidential site expires in 2013.
Mr. Booker is thought to be one of Democrats' best chances to unseat Mr. Christie. However, Mr. Christie's handling of Hurricane Sandy and his subsequent embrace of President Barack Obama was a public relations coup for the governor. A Quinnipiac poll of New Jersey voters released last month showed, though Mr. Booker has the strongest chances of any Democrat against Mr. Christie, the incumbent would handily defeat him in a potential matchup 53 percent to 35 percent. In October, a Quinnipiac poll found a hypothetical race between Mr. Booker and Mr. Christie would be much tighter with the governor holding a slim 46 percent to 42 percent lead.
In a December 9 interview on CBS' Face The Nation Mr. Booker said he would make a decision about whether to run for governor within two weeks. According to the Wall Street Journal, Mr. Booker is still mulling the choice.
Politicker reached out to both Mr. Booker and Ms. Mattes for this story. As of this writing, we have yet to receive a response.