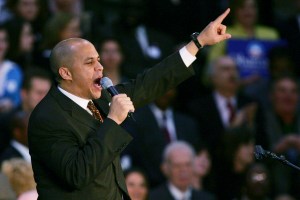 Earlier this month, Newark Mayor Cory Booker said he would decide whether to run for governor of New Jersey or the Senate seat currently occupied by 88-year-old Democrat Frank Lautenberg by this weekend. Initial speculation had Mr. Booker set to challenge incumbent Republican Governor Chris Christie, however in the past week, there were mounting rumors Mr. Booker would instead run for Senate including one from our sister site PolitickerNJ that directly proceeded the mayor's announcement. Mr. Booker finally made it official with a statement and video released to his approximately 1.3 million Twitter followers this morning in which he revealed he will finish out his second term in Newark rather than getting involved in the governor's race and will "explore" running for Mr. Lautenberg's seat in 2014.
"Let there be no doubt, I will complete my full second term as mayor," said Mr. Booker in his statement. "As for my political future, I will explore the possibility of running for The United States Senate in 2014."
Mr. Booker also promised to include Mr. Lautenberg in his deliberations about the Senate campaign.
"As I explore a run for the United States Senate, I look forward to consulting with Senator Lautenberg," Mr. Booker said. "During my lifetime, he has been one of New Jersey's most important leaders. It would be a privilege to continue his great legacy of service."
Mr. Booker characterized his decision as coming from a desire to continue working on revitalizing Newark's economy. Though his team had made preparations for either a Senate or gubernatorial campaign, in recent weeks Mr. Christie's poll numbers soared as he drew praise for his handling of Hurricane Sandy and subsequent bipartisan embrace of President Obama.