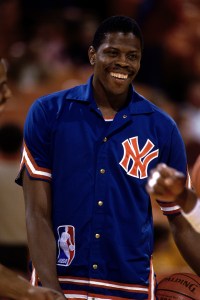 After over a decade playing and coaching in other cities, Hall of Fame center Patrick Ewing might have a shot to return to New York, the home where he spent fifteen seasons building his Hall of Fame career with the Knicks. However, the speculation surrounding Mr. Ewing doesn't involve his old team, it is centered on the Knicks' new outerborough rivals, the Brooklyn Nets, who are in the midst of a sudden makeover of their coaching staff and could have newfound room for Mr. Ewing on their bench.
Yesterday afternoon, the Nets abruptly announced the firing of head coach Avery Johnson, mere weeks after he was named Eastern Conference Coach of the Month. Mr. Johnson's surprise departure came after a dismal stretch that saw the Nets essentially obliterate a promising start to their first season in Brooklyn by getting just three wins and ten losses during the first few weeks of December. In the wake of Mr. Johnson's exit, assistant coach P.J. Carlesimo was named interim head coach, but in a press conference about Mr. Johnson's firing Nets general manager Billy King acknowledged the team could pursue other options.
"PJ will be the interim coach at this time. Will we look other places? We may, but at this time, PJ's our interim head coach," Mr. King said. "The remaining staff will stay with him and we'll go forward from there."
Mr. Ewing's name is among those that have surfaced as a top contender to replace Mr. Johnson. After his playing career Mr. Ewing served as an assistant coach for the Houston Rockets and for the Orlando Magic. In Orlando, he worked under coach Stan Van Gundy and was seen as a key part of the team's 2009 trip to the NBA Finals and instrumental in helping groom the team's star big man Dwight Howard. Mr. Ewing has been out of a job since the Magic fired Mr. Van Gundy back in May. He owns a house in New Jersey and has expressed interest in coaching in the city he called home for over a decade.
Not only does Mr. Ewing have a strong fan base in New York, but his skill set as a specialist for coaching big men would seem well-suited to a Nets team where defense has been one of the main weaknesses. According to the Brooklyn Game, which analyzed the possibility the Nets could give Mr. Ewing a coaching job, his background as a former star and his lack of an existing "system" might prevent him from clashing with the team's star point guard, Deron Williams, who has earned a reputation as a "coach-killer" over the years that fueled rumors he may have played a role in Mr. Johnson's demise.
Mr. Ewing could also potentially join the Nets as an assistant coach. Another name that has been floated for the head coaching job is Mr. Ewing's old boss, Mr. Van Gundy. Though he worked with Mr. Van Gundy in the past, the ex-Orlando coach is reportedly not interested in the job and Mr. Ewing has focused his job search efforts on hunting for a head coaching gig after his years as an assistant.
Signing one of the biggest Knicks icons would certainly help the Nets in the budding rivalry between the two teams. It also might be satisfying to Mr. Ewing who reportedly felt snubbed when the Knicks offered him a D-League coaching job earlier this year. However, the reports of bad blood between Mr. Ewing and the Knicks may be exaggerated. He has attended multiple Knicks games this season including at least two this month.
Though he may have repaired his relationship to the Knicks, there are some signs that Mr. Ewing is also cozying up to Nets management. Mr. Ewing was seen in the Nets' locker room after a game against the Celtics. Another interesting sign came on Twitter from Mr. Ewing's son, Patrick Ewing Jr., who has re-tweeted multiple messages saying his father should join the team (including one from this reporter, who, full disclosure, is a fan of both the Nets and Mr. Ewing).
After the Nets' loss to the Golden State Warriors December 7, the Observer asked Mr. Johnson whether he would consider having Mr. Ewing join his coaching staff and the ex-coach revealed Mr. Ewing had recently seen Mr. King.
"Patrick is a great guy, I think he and Billy were at a fundraiser the other night for a lady that works with the NBA," said Mr. Johnson.
Despite Mr. Johnson's praise for Mr. Ewing, he characterized the coaching staff as "pretty set" and said the team hadn't discussed bringing the Knicks legend on board.
"You know, that's something we haven't talked about," Mr. Johnson said. "You know, our coaching staff is pretty set right now, but we definitely respect what Patrick did as a player and, you know, I think he's had a pretty good run as a coach with his work in Houston and in Orlando."
After we asked Mr. Johnson about Mr. Ewing, we were angrily chastised by a Nets executive who accused us of asking a question "that no one gives a shit about." Now, three weeks and seven losses later, the team's coaching staff is anything but "set" and perhaps the Nets backoffice is indeed starting to give a shit about Mr. Ewing.