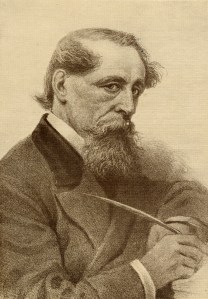 Charles Dickens and Catherine Hogarth married in 1836, when he was 24 and she was 21. From then until the time of their divorce 20 years later, Catherine got pregnant at least a dozen times, had at least two miscarriages and gave birth to 10 children. Nine survived infancy, eight reached adulthood, and all of them disappointed their father, who lamented "having brought up the largest family ever known with the smallest disposition to do anything for themselves."
A new group biography, Great Expectations: The Sons and Daughters of Charles Dickens (FSG, 256 pp., $25) by Robert Gottlieb, documents the lives of the mediocre progeny of a great man. Making use of existing scholarship, Mr. Gottlieb has digested the stories of the Dickens children into easily consumed biographical sketches, illustrated with photographs and portraits. But this neatly condensed book offers more than mere trajectories of not-so-great lives. Instead, Mr. Gottlieb, the dance critic for this paper, has produced a comparative study of child-raising, one that would seem to attest to the value of contemporary ideas: cuddling, affirmation, diagnosis of pathologies, psychopharmacology, college. The Victorians were more resigned. A child's path through life was not so much guided as observed and judged, perhaps with the occasional input of a phrenologist. A failed child was a failure. A dead child was dead. "There are things about the Victorians that we will never understand," Mr. Gottlieb writes. And yet, after brief contemplation of today's pampered scions (George W. Bush, Paris Hilton, Chet Hanks), the Victorians might have had a point.
Dickens was 25 when his eldest son Charley was born. The author already enjoyed massive popular success, with The Pickwick Papers in serialization and Oliver Twist in the works. While it's certain that having so many toddlers underfoot likely affected, say, Dickens's description of the Jellyby household in Bleak House ("We passed several more children on the way up, whom it was difficult to avoid treading on in the dark …"), it would be hard to identify any parallels between the extraordinary juveniles in Dickens's books and his own brood. As Mr. Gottlieb notes, "There was, in fact, almost no overlap between the real children and the imagined ones." By the time his own children reached adolescence, most of Dickens's novels had been written—which is not to say that Dickens did not turn his own children into Dickensian sketches.
Three more children arrived by the time Dickens turned 30, and a pattern soon emerged: initial enthusiasm followed by utter disillusionment. An excitable father, Dickens seemed happiest during his children's infancy. "He bombarded friends with news of their arrivals, their christenings, their charms, their accomplishments," writes Mr. Gottlieb. Charley is referred to in letters as "the infant phenomenon" and "the infant wonder." Frank, the fifth, is "decidedly a success—a perpetual grin is on his face: and the spoon exercise is amazing." And of the youngest, known as Plorn, Dickens fondly wrote, "we have in this house the only baby worth mentioning; and there cannot possibly be another baby anywhere, to come into competition with him. I happen to know this, and would like it to be generally understood."
The Dickens children were raised by Charles, Catherine and Catherine's sister Georgina. Since Catherine spent much of the time between births recovering physically and suffering from postpartum depression, Georgina had primary maternal child-rearing duties. "Catherine represented all the messy business of life—sex, childbirth, ill health," writes Mr. Gottlieb. "Georgina was the devoted mother/sister." In the paternal role, Dickens took responsibility for polishing the children for public life. He monitored their education, discipline and careers. He demanded neatness and punctuality. He also presented them to the world at birth and at their comings of age, named them ambitiously (the eponyms included literary figures like Walter Savage Landor, Alfred Tennyson, Henry Fielding and Edward Bulwer-Lytton), and provided them with lots of amusement and entertainment.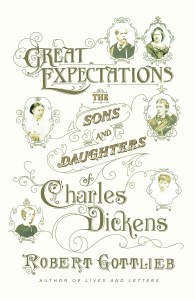 "What a wonderful father he was!" writes Mr. Gottlieb. At first, anyway. Life in the family's house in London included elaborate holiday productions starring the children, written and produced by their father. The Thackerays and the Tennysons were family friends. Each child also earned his or her own nickname, including Mild Glo'ster (Mamie), Lucifer Box (Katey), Young Skull (Walter), The Ocean Spectre (Sydney) and Skittles (Alfred).
"The Plornish Maroon is in a brilliant state, beating all former babies into what they call in America (I don't know why) sky-blue fits," Dickens wrote of his youngest son, Edward, whose original nickname, "Mr. Plornishmaroontigoonter," Dickens soon abbreviated to "The Noble Plorn" and eventually just Plorn, the name by which Edward was known for the rest of his plain and forlorn life.
As the children grew, one by one, Dickens's enthusiasm turned to ashes. Having earned his success and overcome childhood poverty while still a teenager through his own impressive energy and drive, his children's complacency and lack of ambition disconcerted him. "I think he has less fixed purpose and energy than I could have supposed possible in my son," writes Dickens of Charley. (This "lassitude of character" is attributed to Charley's mother.) Of Frank: "A good steady fellow … but not at all brilliant." And Plorn: "he seems to have been born without a groove. It cannot be helped. He is not aspiring or imaginative in his own behalf."
Mr. Gottlieb writes with avuncular concern and sympathy for the Dickens children, who had to cope not only with a famous, exigent and publicly critical father but also a broken home. In 1857, Dickens fell in love with Ellen Ternan, an 18-year-old actress. "By 1858," writes Mr. Gottlieb, "he had made up his mind to change his life and ruthlessly expelled Catherine from it, packing her off to her own establishment (with a generous settlement) and removing her children from her—except for Charley, now twenty-one and his own man." The children floundered through this estrangement from their mother and a Victorian culture generally lacking notions of self-esteem, self-improvement or much self-examination.
The two girls were groomed for marriage, but the boys were expected to launch careers in the armed forces, business or abroad. In the 19th century, Mr. Gottlieb explains, "university was the exception, far from the rule—and since the boys had no particular academic aptitudes, university was not an option for them except for the eighth-born Henry, and he had to plead to go to Cambridge to study law rather than being sent abroad like five of the others."
Mr. Gottlieb defends the boys in their plight, particularly those dispatched to the far corners of the empire (one ended up as an unsuccessful Canadian Mountie; another died in debt after traveling to India; two went to raise sheep in Australia). "Yes," Mr. Gottlieb admits, "half a dozen of them appear somewhat unfocused, even feckless." But Mr. Gottlieb's keenness to overturn history's verdict of their ineptitude wins over the reader. "The saddest story is that of Plorn, a sensitive and nervous boy who couldn't even handle a normal school situation and was then sent off alone, at sixteen, to the raw world of the Australian outback," he writes.
The two girls had their own troubles. Katey entered into a white marriage with the brother of Wilkie Collins, whom Mr. Gottlieb describes as probably homosexual, "perhaps not in practice but in inclination." Dickens's eldest daughter, Mamie, chose not to marry, and Mr. Gottlieb says she might have had "lesbian tendencies." Regardless of Mamie's sexual orientation, she ended up in a situation more out of a Henry James novel than a Dickens one: she did not leave home until after her father's death, whereupon she entered into a possibly sexual relationship with a clergyman and his wife, a "shadowy couple" that she had met through her involvement in a charity movement called Muscular Christianity. The rest of the family thought they might have exploited her for her money.
Several of the children "were undermined by drink" or had gambling addictions. At least one of them probably would have been medicated today. "When he is in full school employment, there is a strange kind of fading comes over him sometimes; the likes of which I don't think I ever saw," writes Dickens of his eldest son, Charley. Katey, the acknowledged favorite of her father, had a habit of obsessively touching the furniture and checking under the bed the same number of times on a daily basis. Frank stuttered and sleepwalked. Sydney, another early favorite of Dickens, went to sea, where he racked up so much debt as an adult that he earned his father's disgust. Dickens confessed to another of his children: "I fear Sydney is much too far gone for recovery and I begin to wish that he were honestly dead." ("This to Sydney's brother!" marvels Mr. Gottlieb.)
The family's attitude toward death is remarkable. When the profligate and worrisome Sydney did die of illness at 25, the family openly expressed its relief. "I fear we must feel that his being taken away early is the most merciful thing that could have happened to him, but it is very, very sad to have to feel this," wrote his Aunt Georgina. So too with the baby who died before her first birthday, Dora: "If we could bring her back to life, now, with a wish, we would not do it," Dickens reportedly said. We can picture Mr. Gottlieb shaking his head in dismay.
One unexpected conclusion of reading Mr. Gottlieb's book is the realization that modern institutions intent on improving people—the therapies and education that offer progress and standardization to those who each begin life from a uniquely disadvantaged place—also serve as more effective propagators of dynasties. It seems not totally by accident that the most successful Dickens child, Henry, never had any peculiar mental tics, studied at Cambridge and became a lawyer. "Out of our large family of nine children there was only one who seemed to me to be really quite sane," Katey later wrote of him.
Today, the path of the children of successful men and women would be to turn the other eight children into Henry: groomed into a functional sanity, coddled into college and an extended young adulthood that allows for some indiscretions, then passing into a career through carefully nurtured (if not inherited) industry. From this path Bushes, Kerrys, Kennedys, Gores, Romneys and one Clinton seem to have emerged with self-esteem and sense of entitlement fully intact. Our institutions of meritocracy might launder provenance, but they also secure privilege.
editorial@observer.com