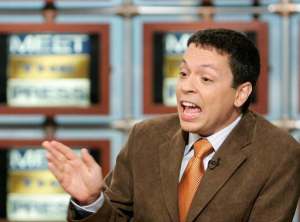 Markos Moulitsas, the founder of the influential Daily Kos blog network, is definitely not a fan of New York's Democratic governor, Andrew Cuomo, or his speculated presidential campaign. The latest transgression comes from Mr. Cuomo's tacit support for a breakaway Democratic conference in the New York State Senate, and their deal to maintain power with the GOP slate of senators, which Mr. Moulitsas, a liberal activist, takes sharp issue with.
"Imagine that in some alternate universe, in 2010, President Barack Obama had encouraged Sens. Ben Nelson, Joe Lieberman, Blanche Lincoln, and Mark Pryor to create an 'Independent Democratic Caucus' which would caucus with Republicans and deprive the majority of control of the Senate?" Mr. Moulitsas rhetorically asked in a blog post, listing moderate Democratic senators from the time. "How angry would that make you? Well, that's exactly the sort of thing you could expect from a President Andrew Cuomo, considering he's doing just that in New York today."
Mr. Moulitsas' criticism echoes that of MSNBC host Chris Hayes' and Salon columnist Alex Pareene, both upset that Mr. Cuomo is not pushing more forcefully for local Democratic lawmakers, as well as his outright endorsement of two GOP incumbents. They all contended Democratic voters should keep Mr. Cuomo's actions in mind for his hypothetical presidential bid.
Of course, Mr. Cuomo–who has dismissed the attacks as hyper-partisan and ignorable–hasn't given any direct indications he intends to run for president after the Obama administration, but he also hasn't ruled it out either. Nevertheless, Mr. Moulitsas argued the deal with the Republican state senators "should make him persona non grata in a Democratic presidential primary."
Or, put more succinctly over Twitter: "I look forward to crushing Cuomo if he runs for president in 2016."