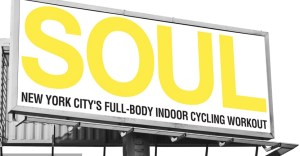 There are things the Transom considers red flags. One is the word "exercise" in any context not involving our First Amendment rights. Another, we recently discovered after a SoulCycle date with Real Housewives of New York City star Aviva Drescher, is the phrase "lock-in shoes."
As in, once you're on, you are not getting off.

When we arrived at 83rd and 3rd Avenue for our 9:30 class, Ms. Drescher greeted us with the warmth of someone who hadn't played the villain all last season on Bravo's hit series. We knew SoulCycle devotees were "cultish," (the word appears throughout the torrent of articles about the specialized spinning class since Julie Rice and Elizabeth Cutler opened their first location in 2006) but we were not prepared for all the happy-souled customers who rushed to tell us their stories of enlightenment.
Like Isabelle Cheren, a 73-years-old former nurse who's been riding doubles (2 back-to-back, 45 minutes classes) since the East side location in 2010. Or Deb, a 60-something psychiatrist whose knee surgery prevented her from walking for two years. When physical therapy didn't help, she turned to SoulCycle. Now she's gained 6 percent bone density and her legs are toned and sinewy. "Here," she said, flexing her arm. "Feel that." We were impressed: Deb had the kind of insane biceps you'd expect to see on an action star. Upper East Side social fixture Danielle Anderman told the Transom that she started SoulCycle after she had a premature baby. "I was going through such a dark place, and it was Stacey, it was really all Stacey and her positivity, that helped get me through it," she said, her eyes sparkling.
Ms. Anderman was referring to Stacey Griffith, the cropped blond, tattooed miracle-worker/SoulCycle teacher whose classes are booked weeks in advance. The former DJ has so many socialite clients that she's blurred the ranks. As the subject of profiles in both Page Six Magazine and Vanity Fair, she is usually the third or fourth most famous face in her classes. The boldface names one might find in the sign-in sheets, at the Upper East Side location alone, include Chelsea Clinton, Brooke Shields and Kelly Ripa, just to name a few.
There was a moment of trepidation as we walked into the darkened room and locked our shoes into place like contestants in some dystopian game show. "Don't worry, you'll love it!" chirped Hamptons fixture Cassandra Seidenfeld as we passed her exiting the class. "It's easy."
Well, no. That is not true. SoulCycle is not easy. It could be fun, potentially, with the blacklights and the Rihanna/Daft Punk/Hip-hop soundtrack. But it is hard. The only thing that pulled the Transom through the first ten minutes were Ms. Griffith's yogi-like affirmations. (Unsurprisingly, she's been a student of both Tony Robbins and the late Sri K. Pattabhi Jois, whom she studied with in India and who is widely considered the generation's master of ashtanga yoga.) "Don't drink too much water!" Ms. Griffith exclaimed at one point, despite the heat wafting through the unventilated room filled.
The Transom, however, was dying.
Half the class was spent hovering above our seat, in a sort of half-run, half-crouch pose. It was hard enough, and then Ms. Griffith announced it was time to pick up our towels and perform a synchronized, Fosse-esque dance move. Three beats behind everyone, we were about to ask for help unlocking our "lock-in shoes," until Ms. Griffith crowed: "Pretend like you are doing a show! And all your parents and family and teachers are there! The ones who said you'd never be a dancer, or a singer, or an actress. And now show them! Show them how good you are!"
Suddenly, we were (almost) keeping pace with the up-left-up-right-down-right-down-left coordination. Nothing motivates the Transom like revenge fantasies.
The session over, we freed ourselves from our bikes, with a little bit of help from Ms. Griffith, who encouraged us to come back and bask in the light that was SoulCycle. "I've never had a student that said she wasn't coming back," she said. Ms. Griffith recently her 800th class, and now teaches about 20 a week. "Not one."
We didn't want to break Ms. Griffith's pretty remarkable streak, so we just kept our mouths shut.