"Look, Larry is not a liar, he's not a cheat," said the collector. "But he is a frigging bully. He's very good at intimidating people and running his social pressure on them, and he's good at image-making, putting out the idea that everything he touches turns to gold. Which of course is bullshit. It worked for a certain amount of time, but no longer."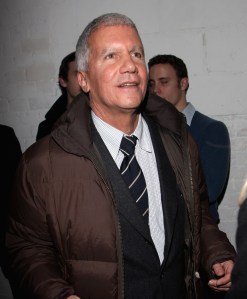 A spokesperson for Gagosian did not respond to a request for comment, but in a 2010 interview with the Financial Times, the dealer defended his approach: "As long as you behave well, there's nothing wrong with being aggressive," he said.
"Everyone wants to see Larry fail," the adviser noted. "I'm not in that camp. I think he's extraordinary. Maybe it's just his time, though. One thing after another put a chink in the armor."
Mr. Perelman, the billionaire investor and chairman of Revlon, has been a client of Mr. Gagosian's for more than two decades. The two of them are also, as Mr. Perelman noted pointedly in his lawsuit, longtime friends and business partners (both are investors in the Blue Parrot restaurant in East Hampton). "Accordingly," the original complaint put it, "Gagosian owed Plaintiffs the highest degree of loyalty and fair dealing."
In other words: this time, it's personal.
The rather complicated suit concerns a series of deals—both purchases and trades—between Mr. Perelman and Gagosian Gallery, including a $4 million sculpture by Mr. Koons, Popeye,and works by Richard Serra and Cy Twombly. Mr. Perelman alleges that in multiple instances, Mr. Gagosian misrepresented the market value of these works in order to maximize his own cut on various transactions. Mr. Gagosian's legal team declined to comment on the Perelman case or any other pending legal matter.
None of the art-world insiders The Observer spoke to believed Mr. Perelman would prevail, and some noted that the complaint served mostly to advertise the plaintiff's apparent, if implausible, naïveté. There is, for instance, the contention that "Plaintiffs depended on defendants, whose knowledge of the market and judgment in these matters were without peer, for their decisions with respect to art transactions," which is a little like relying on the salesgirl at H&M to tell you whether your butt looks big in that sequined A-line cocktail dress. It's her job to move merchandise.
"That's the game," said one well-regarded art adviser who has worked with both men. "They're all in the game together—Perelman's like that, too." Likening the relationship to a marriage gone bad, the adviser added, "People get along for years, and then they get a divorce and want to kill each other."
"I think Ron would sue his dog-walker, and he probably already has," the collector noted.
Despite Mr. Perelman's well-established litigious streak, the move raised eyebrows because it seemed to violate the omertà that has long prevailed in the art world. "It's shocking," said the art consultant. "It's a very respected collector standing up to Gagosian for the first time, and doing so in a very public way, saying, basically, 'I'm not going to take this shit anymore. I'm not going to dummy up.' I think that's what's happening here—when somebody's the king of the world, nobody wants to alienate them, but the minute people start to defect, they all start piling on."
If so, Mr. Gagosian might want to seek the advice of his onetime boss Michael Ovitz, for whom he worked as secretary for a brief period in the 1970s. Years later, after co-founding CAA, Mr. Ovitz came to rule Hollywood in much the way Mr. Gagosian dominates the art world; when the spell was broken, with Mr. Ovitz's firing from Disney in 1997, the many enemies he'd made along the way lined up to get their licks in.