But Charles Cowles wasn't the one being sued. Mr. Wylde sought $6 million in damages from Mr. Gagosian for selling him a work without proper title, and Mr. Wylde was sued in turn by Ms. Cowles, who demanded the painting back. The case was settled last October. Mr. Gagosian paid Mr. Wylde $4.4 million, Mr. Wylde returned the painting to Jan Cowles, and Ms. Cowles promptly gifted the painting to the Met, where it is now on display.
For Mr. Gagosian, though, l'affaire Cowles was far from over. The Tansey deal, it transpired, had been part of a larger transaction between Mr. Cowles and Gagosian Gallery in August 2009 that also included Girl in Mirror.
Though the dealer the originally told Charles he expected to sell the enamel for at least $3 million, of which Cowles would receive $2.5 million, he had been unable to do so, eventually paying Charles a total of $3 million for both paintings.
In January, Ms. Cowles filed suit over the Lichtenstein. In addition to taking issue with the unauthorized sale, the suit alleged that Mr. Gagosian falsely claimed the piece was damaged in order to induce Charles to accept a lowball price of just $1 million. Evidence revealed that the work had been restored and showed discoloration and wear, but it remains unclear how much its condition should have affected the price.
In papers filed in March, Ms. Cowles's lawyer, David Baum—an aggressive litigator whose Facebook posts taunting Mr. Gagosian briefly made their way into the proceedings—brought to light an explosive email. The message was sent to Thompson Dean, the enamel's eventual buyer, by Gagosian Gallery director Deborah McLeod in July 2009, a month after Charles Cowles announced he was shuttering his own art gallery: "Seller now in terrible straits and needs cash," she wrote. "Are you interested in making a cruel and offensive offer? Come on, want to try?"
Ms. McLeod had initially approached Mr. Dean about the piece in January, at a price of $3.5 million, but he'd cited liquidity issues, suggesting they get "creative/attractive" on the price. By summer 2009, the recession was in full effect, and Mr. Dean got his Lichtenstein for $2 million. "Approx. half off, so I like it," Ms. McLeod wrote him. Without disclosing to Charles Cowles that a buyer had made any offer for the piece—and certainly not $2 million—the gallery offered to take both the Lichtenstein and the Tansey off his hands for a total of $3 million. Of that, $1 million was earmarked for the Lichtenstein, which meant a hefty 50 percent commission for Gagosian. Mr. Cowles bit.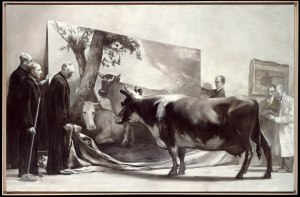 The complaint alleges that the gallery breached its fiduciary duty to Charles Cowles by working both sides of the deal without full disclosure—in effect using knowledge of Charles's desperate financial condition to solicit a lowball offer, then lowballing him further and pocketing the difference. Ms. Cowles is asking for some $15 million, which includes the value of the painting plus interest and $10 million in punitive damages.
The art adviser we spoke to recalled seeing the enamel in Basel, where Mr. Gagosian had placed it on view. "It was a tough year," the adviser said, noting the recession underway at the time. "But you know Larry got somebody to buy it and led Charlie to the bone and took the most monstrous commission anyone's ever heard of in the art world."
That said, everyone knows a smart dealer will maximize his profits, and of course Charles Cowles—whatever his personal circumstances—was under no obligation to accept the $1 million offer.