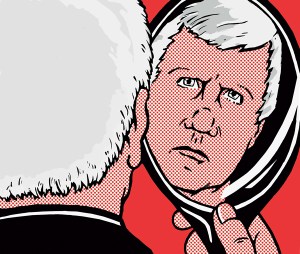 Tom Wolfe's new novel, the Miami-set Back to Blood, has not been particularly well-received by book critics, but at the balmy, prosecco-soaked doorbuster sale and glad-handing jubilee known as Art Basel Miami Beach in early December, attendees armed with e-readers passed around one brief passage with gleeful approval. The scene, which comes midway through the book and is set at the same fair, introduces a character in whom many see an eerie resemblance to dealer Larry Gagosian—the art world's widely admired, widely feared and widely resented top dog. The character, a gallery dealer named Harry Goshen (the name is perhaps a tip-off) is described as "a tall man with gray hair, although he doesn't look all that old, and eerie pale-gray eyes like the slanted eyes of a husky."
A bit mesmerized, Mr. Wolfe's narrator circles back to Goshen's eyes a few lines later: "So pale, those eyes … they look ghostly and sinister …"
Several fairgoers who encountered Mr. Gagosian in his booth in the Miami Beach Convention Center took note of his eyes as well. Not sinister, they said, just tired.
"Maybe it's getting to him," one art adviser surmised. "The travel, the expansion. At some point, it hits you the wrong way. It's hard to satisfy everyone and keep all the balls in the air, and when you go to the top like that you become a target. People love to get the giant."
It's been an unusually challenging period for Mr. Gagosian, the art world's silver-maned dealer-emperor, whose sharp eye for talent, business prowess and aggressive style of deal-making propelled an ascendancy from modest beginnings as a Los Angeles street peddler—hawking cheap posters in Westwood—to a position of unrivaled dominance in the international art trade, a sovereignty that some are predicting, a tad eagerly, may soon come to a close.
Even as he grapples with a pair of ongoing lawsuits—one brought by billionaire investor Ronald Perelman and another by art collector Jan Cowles—accusing Mr. Gagosian of enriching himself at clients' expense, his empire has been rocked by a string of high-profile defections.
As Basel got underway, smartphones began vibrating with a curious piece of news: dealer David Zwirner, the serious-minded German known for shepherding cerebral artists like Neo Rauch to world acclaim, would be mounting a New York exhibition of Jeff Koons, long a prized show pony in Mr. Gagosian's crowded stable and, perhaps coincidentally, the subject of that lawsuit by Mr. Perelman. Though a Gagosian spokesperson made it clear that the gallery would continue to represent Mr. Koons, who also shows at Sonnabend, the move seemed a noteworthy poke in the eye, and the timing a further thumb-twist.
Then, less than a week later, Damien Hirst—a shrewd market operator in his own right—announced that he was leaving Gagosian after 17 years. Never mind that the dealer had helped turn Mr. Hirst into the world's richest artist (reportedly worth upward of $300 million) and had recently given over his entire network of galleries around the world to a blockbuster exhibition of Mr. Hirst's Spot paintings (complete with a zany Amazing Race–type contest prodding jet-setting aficionados to hit all 11 shows).
Hirst was history.
And those Spots of his weren't the last dominoes to fall. A day later, the dotty Japanese artist Yayoi Kusama—who was recently the subject of a major retrospective at the Whitney Museum—announced her own defection from Gagosian.
Three artists out of more than 75 that Mr. Gagosian works with—a number that includes estates like those of Picasso and Warhol—may seem like small potatoes for a world-straddling powerhouse. But there is a common thread that may make their loss a bit more impactful for the gallery, and portentous for the market as a whole. "Look at what they all provided: unlimited supply," noted an art consultant who has had numerous dealings with Mr. Gagosian. "How many Hirsts do you think they sold? Thousands. How many Kusamas?" Despite her voluntary residence in a Japanese mental hospital, Ms. Kusama remains highly productive. "'Forty-eight by forty-eight? Can do! You want red? White? No problem!'" the consultant continued, imagining the gallery's sales pitch. "There are very few artists like that, and he managed to get them. The question is, who can he push to fill that void? Who will be the next million-dollar artist who can churn out a thousand pieces?"
Such artwork, the consultant said, is "like candy"—a quick hit of acquisitional glucose for collectors, necessitating regular replenishment. "'You have a Hirst? I want a Hirst.' 'You have a butterfly? I want a butterfly and a cow.' Collectors were buying two, three, four at a clip. Because a million dollars didn't mean anything to these people."
If the art market has been experiencing a bubble—and many observers believe that it has—this may signal the beginning of a much-needed correction. "I think the whole business has been slowing down," said one prominent collector, who cited the disappointing auction results for Mr. Koons and several other of Gagosian's artists at last November's contemporary sales, despite record-breaking prices for a number of other artists.
Perhaps the gallery overplayed its hand. "City by city, they saturated the market with [Richard] Prince and Koons," the collector said. "Instead of working with an artist to have longevity—with a slow output, distributed internationally over years—they blitzkrieged and carpet-bombed each city with the work. Everybody got a Hirst." Perhaps, the collector speculated, these artists were leaving simply because they'd already sold everything they could to Mr. Gagosian's clientele and it was time to tap a new user base.
"Larry is quite phenomenal," the collector added. "He got these collectors to buy anything he put out there. 'Larry's going to show it!' became an instant recipe for money. It was absurd."
These high-level defections follow the deaths last year of several of Mr. Gagosian's blue-chip artists, the losses of whom likely will be felt not only personally but financially. Cy Twombly, long a jewel in Mr. Gagosian's crown (newly launched Gagosian galleries in Rome, Paris and Athens all opened with Twombly shows), died in July of 2011, followed by Richard Hamilton, John Chamberlain, Mike Kelly and Franz West.
And then there are those pending lawsuits. The allegations themselves are not terribly dramatic—let's see you try selling a billion dollars worth of art in a year, as Gagosian reportedly does, without breaking some crockery—but of far larger consequence might be the unflattering light they have shed on the inner workings of the Gagosian empire. Dozens of emails and hundreds of pages of deposition testimony have been made public, opening the kimono on the dealer's typically discreet business affairs.
This unusual drumbeat of bad news has the art world muttering about a once-unthinkable possibility: could the invincible Larry Gagosian actually be in real trouble? Could a "post-Gagosian era," as one longtime art writer put it, be at hand?
Is Go-Go a goner?
"People are saying, 'The whole Gagosian empire is falling apart!'" the prominent collector said."'Oh, the whole thing is going to collapse!' There's a lot of jealousy." Art world sources contacted by The Observer were universal in their praise of Mr. Gagosian's business instincts and his curatorial acumen, noting with particular approval the many influential museum-quality exhibitions his galleries have mounted over the years. They also called him tough, Machiavellian and hard on his employees, a thick-skinned bunch for whom a ready box of Puffs is nonetheless said to be standard equipment. Many sounded mirthful about his string of difficulties. And they all flatly refused to be quoted by name.