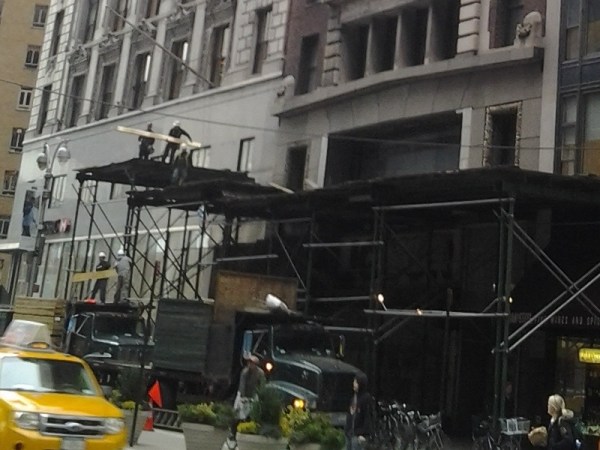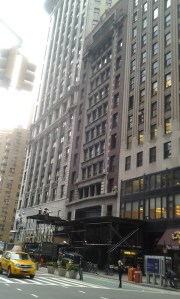 No sooner did Extell Development file permits for a new 1,550-foot residential tower on the corner of 57th Street and Broadway then scaffolding started to go up around one of the final properties comprising Gary Barnett's little west side assemblage that will be home to the city's tallest tower. On Friday morning, The Observer happened to be out for a stroll on the crosstown boulevard when we noticed construction workers assembling a sidewalk shed, the first sign of construction commencement.
A source close to Extell confirms that demolition will soon begin on 1780 Broadway, a 12-story building that was once home to BF Goodrich. At the time, this corner of Gotham was known as Automobile Row during the Gilded Age. Because of an agreement with the city's Landmarks Preservation Commission, the facade of 1780 Broadway must be retained as part of any new building, so this will presumably be a careful deconstruction.
It is worth noting that, according to construction documents, the hotel will occupy floors seven through 12, the same height as 1780 Broadway, so it could make a good entrance for the hotel, while the Nordstrom would presumably have its entrance on busy 57th Street, with something quieter for the apartment tenants on 58th Street.
The building at 225 West 57th Street was also part of the BF Goodrich complex, but the eight-story building was not given protections by the landmarks commission. The only thing holding up its demolition, which is also just beginning, was a Morton Williams grocery store in the ground floor and basement. Construction netting and scaffolding has been up on the building for months, but until a new Morton Williams opened a block down 57th Street, this one stayed open. Currently, the space is half empty, with ripped ceilings and empty cold cases strewn about the space.
Neighboring 117 West 57th Street was torn down last year and has lain dormant.
Is this a sign that this new building might indeed start rising sooner rather than later? "Once a building is torn down, a new one tends to rise," according to our source. "It's quite possible."
That would be an impressive feat, given that One57 is not even finished. Then again, if that building is indeed almost sold out, Mr. Barnett will need something else to start selling to the billionaires of the world, eh? Which begs the question, what could he possibly build next to top these two?
Update:Extell spokesman George Artzt explains that the building is being prepped for future work, but nothing will happen before plans are approved by the city's Landmarks Preservation Commission. "We're not doing anything to the building right now," he said. At the moment, demolition is only underway on 225 West 57th Street.