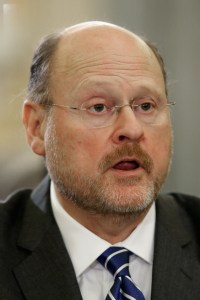 M.T.A. Chairman Joe Lhota made quite the splash earlier this week when he announced he will retire at the end of the year in order to contemplate a mayoral bid as a Republican. At the same time he made the announcement, however, Mr. Lhota's agency approved a round of fare hikes, including an increase on the unpopular Verrazano-Narrows Bridge toll, which has some GOP politicos wondering if his political brand took a blow in a critical Republican constituency.
"I can already see the knives coming out about a $15 dollar toll on the Verrazano," Republican consultant Gerry O'Brien told Politicker. "The M.T.A. is always one of the political entities under attack from politicians."
However, Bob Scamardella, Staten Island's Republican county chairman who has spoken approvingly about Mr. Lhota's candidacy in the past, argued Mr. Lhota's broader profile will be at stake, not just one issue.
"If the question is, is he somebody I would consider supporting, the answer to that question is an unqualified 'yes,'" he said, while admitting the hike "would weigh in his disfavor, that the toll issue is an important one on Staten Island. But Mr. Lhota's record has to be weighed in its entirety by me and I think would be all of the voters."
Unlike the four other county GOP chairs, Mr. Scamardella has yet to signal his strong support for a particular candidate. The Queens and Manhattan county organizations are in the corner of billionaire John Catsimatidis, while the Bronx and Brooklyn chairs have said they support former Bronx Borough President Adolfo Carrión. But with its strong Republican base and Italian-American community, Staten Island's voters would seem an important voting bloc for Mr. Lhota's still-hypothetical campaign. On the other hand, former Mayor Rudy Giuliani is reportedly an "enthusiastic supporter" of Mr. Lhota, who once worked in his administration, and may be able to provide some local political cover.
Nevertheless, protests against hikes have become almost a ritual on the island, and though Mr. Lhota was chair of the M.T.A. for just under a year, he could easily face attacks on the hot-button issue. Indeed, one of his Republican rivals, DOE Fund founder George McDonald, wasted little time blasting Mr. Lhota.
"As Staten Islanders struggle to recover from the devastation wrought by Super Storm Sandy, it is mind boggling that the MTA and its Chairman would approve a $15 cash toll on the Verrazano-Narrows Bridge," Mr. McDonald said in a statement yesterday. "Just weeks after Sandy and months after the last Port Authority toll increase, the people of Staten Island deserve economic relief, not another body blow."
Even Democrats have been near-giddy. A top consultant for Council Speaker Christine Quinn, a likely mayoral candidate, immediately slammed the various fare hikes as soon as they were announced, and Kevin Elkins, the executive director of Staten Island's Democratic Party, didn't exactly mince words when Politicker inquired about Mr. Lhota's candidacy.
"Mark Sanchez has a better chance of starting as a quarterback for the Jets next year than Joe Lhota has of becoming mayor," Mr. Elkins said. "Staten Island has often provided the margin of victory for mayoral candidates and we're not going to vote for the former head of the M.T.A. which just approved another toll hike. Tolls are one of the biggest issues on the island and instead of plotting to run for mayor, perhaps he should have spent his time trying to figure out how to alleviate the M.T.A.'s budgetary woes without using Staten Islanders as an A.T.M."
For his part, Mr. Lhota said the fare increases were a simple budgetary necessity, but he seemed to acknowledge the political danger they brought to his future. The timing of his resignation announcement was "a profile in courage," he said.