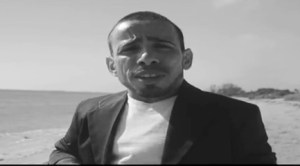 Do you remember that amazing Stephen Dorff "Behind the Scenes" infomercial for Blu-E Cigarettes? The one that was six minutes of rambling, apparently unedited footage of actor Stephen Dorff (Blade, FeardotCom, Space Truckers) wearing a silly hat and playing piano in someone's beach bungalow while taking e-cig breaks during a commercial for the Blu-U brand?
Well, one e-cigarette company decided to take it to the next level. Meet White Cloud Electronic Cigarettes' newest spokesperson … Stephen DWARF.

Like it wasn't sad enough that e-cigarettes are peddled by actors whose careers are so dead that the name of the spot was Stephen Dorff's "Rise From the Ashes." Can you imagine the conversation with the ad team for this one? Like one exec came in all excited Monday morning and threw down the Stephen Dorff copy, announced, "You know what? We can make this better. All we need is a pun and a tiny man with a dream."
"You mean another Stephen Dorff spot? For a different brand?" Another of White Cloud's ad team would ask.
"No. I'm thinking bigger! How about Stephen DWARF?"
"That's technically smaller, and offensive."
"Johnson, that's exactly the kind of in-the-box thinking that keeps you from being called The Don Draper of e-cigarettes."
"No one is ever called that."
"People will, after they meet Stephen Dwarf."