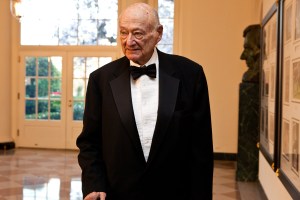 Former Mayor Ed Koch, who will be 88-years-old next week, has been hospitalized.
"Mayor Ed Koch was admitted this afternoon to New York-Presbyterian Hospital with a respiratory infection," his spokesman, George Arzt, announced in a statement. "The infection is being treated with antibiotics."
Previously, Mr. Koch spent four days in the hospital last September after he was admitted with anemia. Additionally, Mr. Koch has suffered a number of ailments throughout his political career, including a stroke while he was in office. In spite of these health problem, he has continued to be very politically active including getting involved in this year's congressional primaries and weighing in as a weekly guest on NY1's Inside City Hall.
Needless to say, we wish Mr. Koch the best.