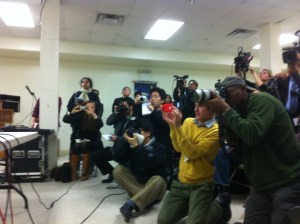 The family of Ki-Suk Han, who was pushed into the subway tracks and killed by an oncoming train on Monday, have had to deal with extensive and controversial media attention since the incident. Mr. Han's widow and daughter, joined by various Korean leaders and Comptroller John Liu, held a press conference this afternoon at the family's church in Maspeth. Mr. Liu said the event was designed to give the family some peace from the press onslaught.
"They have not been able to go home because many of you fine people have been camped outside their home," Mr. Liu said, over the click of cameras. "So by having this media availability, they are hoping that they can show you how badly they are hurting and then they would like to be able to go home."The press conference took place against the backdrop of the controversy over The New York Post's decision to run a photo on yesterday's front page taken moments before Mr. Han was hit and killed. Critics have raised the question of whether the Post photographer, R. Umar Abbasi, should have attempted to help Mr. Han rather than taking shots of the train as it bore down on him. At the press conference, Mr. Han's daughter, Ashley Han, was asked how she felt about the lack of aid her father received in his final moments.
"What's done is done. I'm not really one to dwell about what could have happened," Ms. Han, a 20 year old student at Hunter College, said. "I mean yeah, the thought of someone helping up in a matter of seconds would have been great but like I said, what happened has happened"
For his part, Mr. Abbasi has said he only got the photo because he was "shooting and flashing, hoping the train driver would see something and be able to stop." The family didn't respond to a question from the Observer about the Post cover, but their reverend spoke about how "difficult" it was for them to see the photo.
"Actually, after they saw this photo by The New York Post they couldn't sleep," the Rev. Wantae Cho of the Woo Ri Presbyterian Church said. Mr. Han's widow and daughter have been staying with Mr. Cho since the accident.
With the Post becoming part of the story, the press conference presented an awkward situation for reporters from the tabloid. According to other journalists at the event, reporters from the Post avoided using their press passes that identified their outlet while at the conference.
"I don't want to say where I'm from," a photographer for the Post told us. "We are not well liked around here."