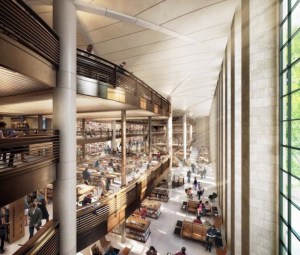 It looks like the New York Public Library is finally ready to turn the page.
Today, bibliophiles can sneak a peek at the new design for the long-awaited renovation of the landmark Bryant Park branch. First announced in 2008, the $300 million overhaul will remove seven floors of stacks and open the building's central axis from the Fifth Avenue side to the Bryant Park side.
In place of the stacks, which have never been open to the public, there will be a four-story atrium lined with bookshelves and seating areas. Floor-to-ceiling windows overlooking Bryant Park will give dedicated researchers a much needed tan.
British architect Norman Foster, whose specialty is inserting contemporary designs into historic buildings,  is redesigning the library and work is expected to begin in the summer of 2013, though originally the redesign was forecast to be completed next year. If all goes according to plan (never a guarantee in this city), the renovation will be finished by 2018.
The renovation will also convert offices and storage space on the second floor into a public workspace that can fit up to 300 people. A new teen center, children's room and below-ground education space will be included.
The redesign is centered around the relocation of the Mid-Manhattan branch across the street and the smaller Science Industry and Business Library on 34th Street into the 101-year-old 42nd Street building, something that makes "elegant sense," according to New York Magazine.
After complaints that the new atrium would displace critical texts for research, NYPL announced an $88 million donation to create more space for books beneath the new circulating library. More than three million of the four and a half million volumes will now remain on site.
Critics had assailed NYPL for not being more forthcoming about the specifics of the redesign. Alterations to the 42nd Street building will need to be approved by the Landmarks Preservation Commission.
"In August I was told schematics would be ready in September," the architecture critic Ada Louise Huxtable wrote this month in The Wall Street Journal. "In September I was told they would be available in October. In October I was told it would happen in November. In November I was promised a presentation in December … The library has been less than forthcoming, and sensitivity to criticism has obviously reached a fever pitch."
NYPL, in response, simply said the design hadn't been refined until now.