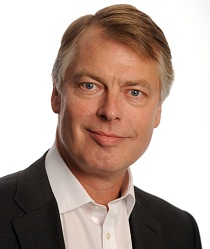 Richard Johnson, New York Post's Page Six veteran editor, is heading back to The New York Post. Mr. Johnson made the high profile jump out west to head up The Daily's Los Angeles bureau when the app launched in February 2011.
Mr. Johnson will join The Daily's editor-in-chief Jesse Angelo at the tabloid. Mr. Angelo has been named the Post's publisher. "Technology and other assets from The Daily, including some staff, will be folded into The Post," said the News Corp. press release. Presumably, there will be other Daily refugees returning to the Post fold.
Mr. Johnson announced his return on his Facebook page hours after News Corp. announced that The Daily was folding.
"The Daily, the newspaper for the iPad we launched nearly two years ago, will stop publishing Dec. 15. I am now working for the New York Post," Mr. Johnson posted earlier today. No word yet on whether Mr. Johnson will return to Page Six, although a spokesperson said the scribe would remain in L.A.