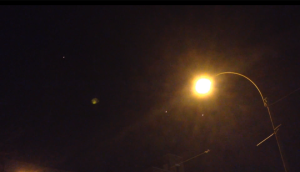 No, there isn't a hip noise-rock band called UFO tearing up the Brooklyn scene.
But there are literally unidentified flying objects burning across the borough's sky, according to the intrepid folks over at UFO Sightings Daily. The website alleges that three "glowing UFOs" were spotted at the corner of Dean Street and Vanderbilt Avenue on Dec. 3. The video, hazy in that dubiously alluring way, shows three little dots moving through the night sky.
"This seems totally crazy but we saw strange lights over Brooklyn again tonight," an "eyewitness" told the website.
"There were three orbs glowing like fire and again flying in formation. Each of the three finally stopped at the same point in the sky, hovered, and then disappeared."
The slow-moving dots could be carrying the conquerors of the human race or even celestial fairies come at last to liberate our germ world, unleashing eons of fifth-dimensional bliss.
Or they could be airplanes. The choice is yours!
[youtube http://www.youtube.com/watch?v=iGyQHKwrg5w]