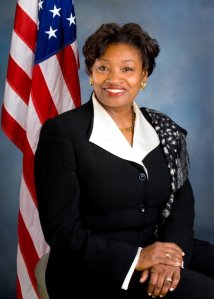 Newly-elected State Senate Minority Leader Andrea Stewart-Cousins sidestepped radio host Fred Dicker's repeated attempts to get her to say whether or not she agreed with State Senator Bill Perkins' demand that Governor Andrew Cuomo stand up against "the plantation politics of backroom deals."
Mr. Perkins, a Harlem Democrat, blasted the statement out yesterday, alluding to the power sharing agreement between the breakaway Independent Democratic Conference and Senate Republicans. Democrats were locked out the majority yet again when the IDC agreed to govern with Republican State Sen. Dean Skelos, angering Democrats who believed the Democratic governor of New York should have done more to return them to the majority and were upset by the fact the new Senate majority has just one minority member.
"Let's demand that New York's top Democrat, Governor Andrew Cuomo, stand up for representative government and against the plantation politics of backroom deals putting us on the back of the bus!" Mr. Perkins exclamatorily stated.
On his morning show today, Mr. Dicker asked Ms. Stewart-Cousins multiple times whether she explicitly agreed with what Mr. Perkins said. His statement, while not naming the IDC directly, said that, "If things happened as they have traditionally, this partnership of Progressive Senators, African American, white and Latino would hold critical Senate Chairmanships. We would preside on committees dealing with housing, criminal justice, the judiciary and education."
Ms. Stewart-Cousins avoided directly addressing Mr. Perkins' comments.
"We have a lot of intelligent, energetic and opinionated senators," she said. "Senator Perkins has been consistent in expressing his opinion and that's just how that is."
Mr. Dicker pressed the issue.
"Sure, but do you agree with him?" he asked.
Though she certainly did not match Mr. Perkins' heated rhetoric, she seemed to agree with aspects of his statement.
"Where Senator Perkins is trying to make the point again, you talked about it, Democrats have the numerical majority in terms of the legislature….We have in terms of our conference an extremely broad reflection of New York State," Ms. Stewart-Cousins replied. "We have to understand, frankly, that our conference reflects New York, and is being denied the ability to be in the types of positions based on the numerical majority to influence policy."
Mr. Dicker pressed Ms. Stewart-Cousins one last time, slightly mischaracterizing Mr. Perkins' statement as calling out Mr. Cuomo himself "for engaging in back of the bus politics." Mr. Perkins, however, had asked the governor to stand up to such politics. Ms. Stewart-Cousins pointed out Mr. Dicker has plenty of his own opinions and assured him Mr. Perkins' comments would not distract the Senate from the legislative tasks at hand.
"People are always going to have opinions just like you do—you're one of the most opinionated people I know—the reality is, that we're not getting caught up in anything but what New Yorkers are expecting of us," she said.